Dr Anita Heiss is an award-winning author of non-fiction, historical fiction, commercial women's fiction, children's novels and blogs. She is a proud member of the Wiradjuri Nation of central New South Wales, an Ambassador for the Indigenous Literacy Foundation, the GO Foundation and Worawa Aboriginal College.
Her novel Barbed Wire and Cherry Blossoms, set in Cowra during World War II, was the 2020 University of Canberra Book of the Year. Bila Yarrudhanggalangdhuray is her second work of historical fiction, and it is the first commercial work published with only Aboriginal language on the cover in Australia.
Anita is a board member of University of Queensland Press and Circa Contemporary Circus, and is a Professor of Communications at the University of Queensland. As an artist in residence at La Boite Theatre in 2020, Anita began adapting her novel Tiddas for the stage.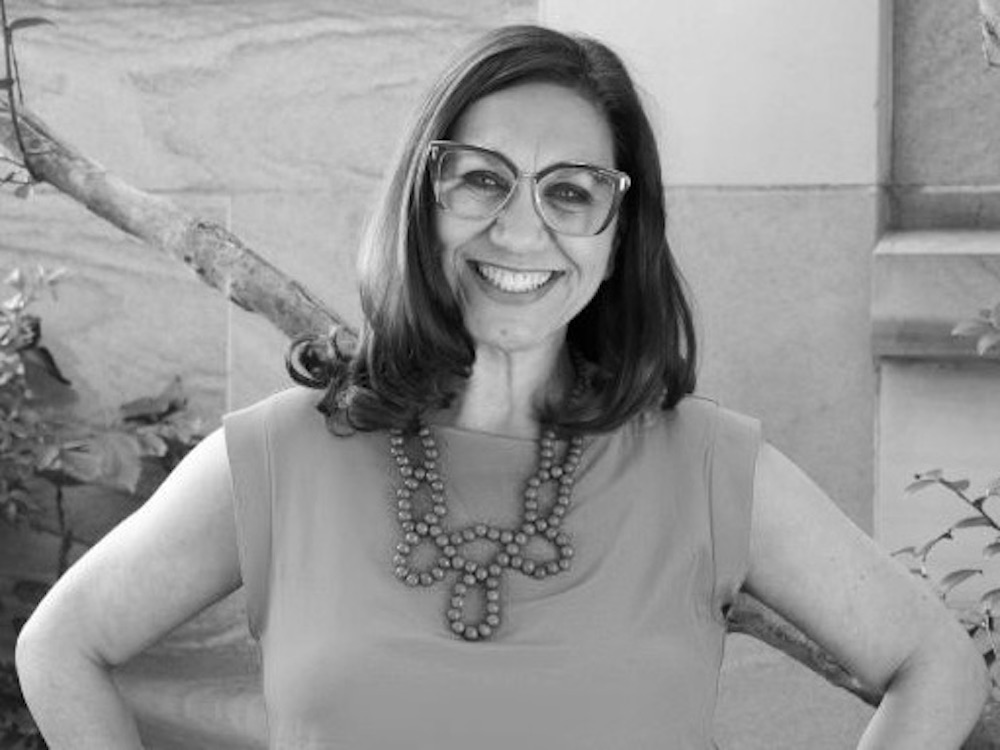 TRANSCRIPT
ASTRID: Anita Heiss, welcome to The Garret.
ANITA: Thank you for having me again.
ASTRID: Now, Anita, I have to admit, I'm a little bit, not scared, but I'm a little bit nervous to interview you because I respect you a great deal. You are a fierce intellect, and I have this slight fear, slight paranoia, that you will let me know if I'm asking a really stupid question or if I have totally misunderstood. So I feel like I put my brave pants on today, Anita.
ANITA: I think we're both on opposite sides of the screen for this podcast, both of us feeling a little bit nervous, because this might be my first podcast about my new novel, so I'm a bit nervous as well. Can I just say thank you for your story and Growing Up Disabled in Australia as well. I learnt so much from all of the stories, but MS, I hadn't thought about that. So thank you so much.
ASTRID: Thank you, Anita. Thank you for reading it. Here is a random shout out to Black Inc.'s Growing Up series in Australia. There is Growing Up Aboriginal, obviously edited by Anita Heiss, but there has also been Growing Up Queer, edited by Benjamin Law, Growing Up Disabled, edited by Carly Findlay, Growing Up Asian, edited by Alice Pung, and Growing Up African, edited by Maxine Beneba Clarke. And I believe next year, we're getting Growing Up in Country Australia, edited by Rick Morton. So anyway, random not paid sponsorship of an amazing series that is truly telling stories that should be out there, I think.
ANITA: Agreed.
ASTRID: Over to you, Anita. Congratulations on your latest novel, Bila Yarrudanggalangdhuray.
ANITA: Perfect. First go.
ASTRID: I have been practising, Anita. I can't believe I got that on the first go. Now, this is your latest novel, published in May 2021. I have so many questions, but I'd actually like to start with when you wrote it. Obviously, 2020 was a big year, and even if you had already written it, it would have impacted the publishing and editing process. So before we dive into the story and, of course, your title, can you tell me how this book came to be?
ANITA: To be honest with you, so I'd written Barbed Wire and Chen brry Blossoms, which was my last novel that was published in 2016 by Simon & Schuster, and that was about the Cowra breakout and Wiradjuri mob down in Cowra during World War II. I never really imagined that I would write another historical novel for some time. I had no ideas. This is quite a substantial novel, actually, as well. But it was in May of 2017, I was in New York, and just at the same time, by chance, overnight as my publisher from Simon and Schuster at the time, Roberta Ivers. And she said to me, 'We would like you to write an epic historical novel'. I didn't even know what that meant, they had to define that, or if I had the capacity to do it. But we talked it through and I said, 'Yes. Okay, I'll do something'. I had no idea at that time, but I wanted it to be a story about black and white women living on the land during history, some point in time in New South Wales.
A month later, the town of Gundagai in Central New South Wales unveiled a statue on their main street of Sheridan Street of Yarri and Jacky Jacky, who were heroes of the Great Flood of 1852. I thought to myself, 'How is it that the whole country does not know about these legends who saved a third of the town during three days of flooding?' Sorry, a third of the town drowned and they saved between 59 and 80 lives. 'How don't we know that? And the whole world should know about this story because it's also one of the greatest natural disasters that our country has seen'.
So, that was in June. I still didn't have an idea, but I knew that that story would be in there somewhere. In the following January, I started learning my Wiradjuri language on country, down in Wagga Wagga at Charles Sturt University with Uncle Stan Grant, or Dr. Stan Grant, and all of his proteges. Every single day, I would learn something new about the land, about my ancestors, about language, about sovereignty, about nation building, and every single day new ideas would come to me, and I'd be texting and emailing Roberta saying, 'I want to include this. I want to include this'.
Slowly, a story came together. I knew that it would start with the flood, that there would be a love story, because I believe in romantic love still, there would be a love story in there somewhere, and the bulk of the story would happen in Wagga because that's where I was spending a lot of time. I don't want to give too much away, but I wanted to include also Brungle, which is where most of my family are from. So without giving too much away, that was sort of where it was all born from. The story really grew out of me standing in the floodplains also in Wagga, imagining what it was like for my ancestors living during those times, and living off the land, and learning about scar trees, and plants, and animals, and astronomy and so forth.
ASTRID: So you began learning Wiradjuri in 2018.
ANITA: Yes.
ASTRID: This book is now published two- and a-bit years later. That is a life experience and it permeates the novel. You do recognise Wiradjuri language and thank many of your kin and family at the end. I wanted to ask, does learning another language and your ancestors' language change the way you tell stories and write? I guess I'm coming at this as a woman who studied a dead language, Latin, for 11 years, and that gave me a different way of expressing and writing and thinking. But that, of course, is not my ancestors' language. So I guess I have a two-part question here. What does language give you as a creator? And what does the Wiradjuri language mean to you as a creator?
ANITA: Oh, difficult questions. Very good questions. I think for me and anybody that's read any of my other books and then goes to read Bila Yarrudanggalangdhuray will see that this, it's a richer story. The depth of emotion, I think, in the story is like nothing that I've written before, because our words are loaded with our being. One word, which is the name of one of the main male characters, has a number of meanings. It means respect, and to honour, and to move gently and quietly and politely and so forth. But there's about eight different words for woman, different kinds of women. We have a completely different grammar system.
So for me, for writing this story and using Wiradjuri language, there was so much in terms of just me bringing that to the page. I felt such a level of responsibility and accountability. But, also, I felt like it was an act of sovereignty. I feel like that every time I speak now, then when I acknowledge country and I do it in language, that it is an act of sovereignty that I've never felt before. I feel like this book, actually for the first time, and I've felt like every book has a purpose and every book is about me writing us into the literary landscape and into the national narrative in some way, shape, or form, but I feel like I'd always felt like I'd done that before and now I feel like I've really done that.
So I feel as a writer and as a Wiradjuri writer so much more empowered as an author to be able to say, not only are we writing in the colonisers' form and medium and language, but also we are reclaiming our own language, the language that was a privilege for me to learn because my mother wasn't allowed. My mother didn't learn it. She wasn't allowed to speak it. My grandmother was removed and put into Cootamundra Aboriginal Girls' Home and lived under acts of protection and assimilation policies, which outlawed speaking language.
So I feel that everything that's in the book, and as you mention, I write in my acknowledgements that I am the author of the novel, but it's full of all the wisdom and the knowledge and the love that I got from all my extended family, all the beautiful women, all the Wiradjuri women that were part of that process. They read draughts as well. We've been in a group today talking about one of my mistakes that I made. And I said, 'I'm on my L plates. It's going to take me a lifetime to learn'. But I did, actually. Because we were in COVID last year, I couldn't get down on country and so forth. So I was doing a lot by myself and learning new words and phrases as I went along.
ASTRID: I got teary at the end of this novel. Now, that was because of the novel, but actually, I had quite an emotional reaction that I wasn't anticipating, Anita, to the dictionary, the list of words at the back. It's not a full dictionary. I reflected on that for a while. I am a white woman. I am of coloniser stock, and, well, I kind of cried. I remembered Tara June Winch's The Yield, which is also a beautiful story including Wiradjuri language, and I just felt so happy that Australian literature and contemporary publishing in this country is not what it was five years ago, or 15 years ago, or when I was a kid. It doesn't mean it's great, and it doesn't mean there's not much to change, but it was quite a profound experience for me as a reader who just loves what is written in this country. So I just wanted to say a really personal thank you.
ANITA: Thank you for that. Thank you. You know what's interesting? I think as writers, and you're a writer, that we need to understand and accept that our readers are increasingly wanting more, wanting more meaning in what they're reading. I mean, I found this when I wrote chick lit. I didn't even know I was writing chick lit, but I found it was so successful so quickly because even women reading in a genre of romance and shopping are craving more to their stories and their lives because people are living more, engaging more.
You will know also just through your own social observations that the Black Lives Movement of last year, that is not new for Aboriginal people in this country. It's been a movement going for decades. But with the death of George Floyd, so public and disgusting, that just mobilised people internationally, drove so many Australians for the first time to take to the streets, but also to educate themselves. And so this huge increase in the movement of works by First Nations peoples, so I acknowledge that as well.
With the language and the dictionary or the glossary, Uncle Stan Grant has his copy. He was sent a draught, obviously. Only Uncle Stan and Aunty Betty knew all along. So I talked about this project when I was in our class, because we all had to do a community development project, and this was going to be mine. I ended up doing another one, and I'll talk about that after. But I acknowledge that, obviously, without the work of Uncle Stan Grant and Dr. John Rudder, we wouldn't have the enormous amount of resources we have as Wiradjuri peoples. We are so blessed. We have a grammar dictionary, we have a dictionary. We have songbooks and colouring books and CDs. We have animations. We're just so lucky. But there's words in there also that we just use amongst ourselves in class that may not appear in the dictionary. So I mean, I think it's probably a language that will evolve and grow and more will be documented over time as well, and quite possibly I've made some words up myself.
ASTRID: Language does change and evolve.
ANITA: Well, my accent, I think, damages some of it. I began to speak in a really terrible Australian accent, I'm sure.
ASTRID: Now, I'd like to talk about the title. I thought quite a bit what I wanted to ask, because any title of a book, particularly a novel, is often personally important to the author, and it often becomes a touchstone or personally important to readers if that novel touches a heart string. The titles of novels have a different commercial imperative if you are viewing it from a publisher's point of view, from an editorial point of view. I wondered, what were the conversations behind the scenes, if I can be so bold to ask, when you were talking to your publisher about, I believe, publishing the first Aboriginal language title without an English translation in Australia?
ANITA: Yeah. That's a good question, and I'm so pleased that we've done this now because, really, kudos, I can't speak highly enough about Simon and Schuster who have just gone above and beyond trying to do everything that I wanted to do and to make it work and without any arguments. I've got covers of books in the past that I felt my voice was overwritten by publishers because they were doing a marketing thing and so forth. But 18 books down, you would have hoped that I have some kind of say. I will say that I was astounded at first. I was shown nine draughts, or nine or 10. That never happens.
So my publisher, because we're still in COVID, so everything's on Zoom, and we look through a number of draughts, and I talk about what I like looking at and so forth. Their words to me is, 'We really want to push the boundaries, Anita, with this. What can we do?' And I said, 'Well, we can take English off the cover'. And they were, 'Great. That sounds fine. We'll do the thing on the back'. And so the story, as you'll know and readers will find when they read the novel, it's set largely along the Murrumbidgee, the Murrumbidgee River in both Gundagai and Wagga. It is a river that holds strength and stories of its own. It's a river that can create dreams. It's where Yarri and Wagadhaany dream about their future together and families and so forth, and Wagadhaany dreams about going home, obviously. But when you read the novel, we know obviously with the flood and with some other things that unfold in the story that it is a river that can take away dreams as well.
And so the River of Dreams, or it was Rivers of Dreams to start with. I think I was going to include the three rivers of Wiradjuri Country, the Calare (the Lachlan), the Wambool (the Macquarie), and the Murrumbidgee. Then somewhere in the process, you know what it's like, your synopsis changes, and then we ended up with just the one. So Bila, for your readers, Bila is river. So, that's quite easy. And Yarrudanggalang is dreams, and dhuray is the having of dreams, so many dreams. So it's the River of Dreams.
And so it's really, I think the fact that we have no English on the front cover and it's the first time a commercial novel has an Aboriginal language on the cover has really touched the hearts of booksellers. There's been extraordinary support from booksellers nationally, independents and mainstream. I'm blown away. Booksellers were asking me to make a little video for their staff, so the staff can understand the meaning of the cover, so that people, if they go in and can't say the actual title of the novel, that staff can actually be informed around that. I think that speaks to me. That tells me there has been a shift. Because a lot of our stories, as you'll know, particularly do not end up in mainstream department stores and so forth, and I think that's changing.
ASTRID: Absolutely, and well past time, Anita, well past time. This is a work of historical fiction, and as you briefly mentioned before, we learn a great deal about the 1852 Great Flood of Gundagai. I did not know about this before picking up this work, even though I was born and raised in Sydney, and I had no idea, Anita. You have written nonfiction and fiction and historical fiction before, but I'm interested in how you approach historical fiction and what sources you go to, what you choose to trust and bring to a contemporary audience. I was struck by the sheer arrogance, the sheer arrogance of looking at history and once again being reminded that settlers paid no attention to local knowledge and built an entire town on a flood plain, just excruciatingly arrogant.
ANITA: Yes, and that's the opening of the novel, where Yarri is saying to, it turns out to be the patriarch, Mr. Bradley, we learn, that, 'Don't...' And it's understood that that's what the locals were saying, 'Don't build here. It's going to flood. It has before, it will again'. It had flooded in '44, and I believe two people had drowned then. So didn't listen, and that's what happened. It wasn't until after the flood that the town was repositioned and so forth to high ground. It's not that the local Wiradjuri mob didn't have ceremonial or spend time in the floodplains, but they knew to move and so forth.
So in terms of research, the first thing I did was run it by people, Wiradjuri mob down on country. I spent a lot of time in Gundagai. I think I went back to Wagga about eight times in the two years maybe. Another time we did a row for Yarri and Jacky Jacky, because I'm a method writer, and I wanted to get in a canoe. Mind you, it was November, and it was a beautiful, clear sky. We all had life jackets on, so nobody was going to drown. The water was relatively calm. I fell in anyway. So then I could remotely imagine the fear because I was still afraid, and how cold the water was, and this is in November. So the flood was in the middle of June, like late June, 3rd week of June, for three days. I can't even imagine. Raging waters, torrential rain, out in the dark.
But I went to Gundagai. I'd read they had a fantastic local history area section in the library. There's an amazing woman who runs the Cootamundra Gundagai Tourism, Miriam Crane, with an enormous amount of knowledge about the local town. So I cannot thank her enough. So she read draughts for me. She was also on the committee with Peter Smith and other locals, Aunty Sonia Piper, who wrote the submissions for the statues. Also, in 2019, Yarri and Jacky Jacky were granted posthumous heroism awards. So I had access to a whole lot of information.
I spent a lot of time in Wagga. The librarians at Wagga Library were extraordinary. I just emailed them saying, 'I need this, this, and this. I'm coming to town'. They had a trolley full of things waiting for me when I got there. Just extraordinary. I relied on my classmates, my peers, my sisters that I was learning language with, to read different things. And I sent it to Aunty Elaine Lomas, who's Uncle Stan Grant's sister, and she'll be launching it in Canberra. I had Aunty Sonia Piper, who is, I guess, the matriarch, I should say. Aunty Sonia Piper is the matriarch in Brungle and across to Gundagai. And so, she read the passages on Brungle for me, because I don't want people to be surprised by anything. I want to make sure the people I write for are happy. Because it's pointless any author having a book on the shelf if it disempowers someone or it's an inaccurate representation and so forth. I'm nervous and I'm anxious, but I'm excited because I've sent copies out now to family and mob back home, and just hoping everybody's happy with the story.
ASTRID: You just mentioned who you wrote the book for. Can you elaborate? What are your intentions for the book?
ANITA: Oh, first and foremost, I want the world to know the resilience of the town of Gundagai. I want the world to know that we have our own heroes and warriors that mostly remain unacknowledged and unrecognised. We saw it in post the Black Lives Matter initial movement, the tearing down of statues, and internationally, of statues of colonisers and people who are known to have been quite racist in their lifetimes. And at the same time, this ongoing conversation around the fact that, 'Where are the statutes that recognise our warriors and our leaders?' and so forth.
So I want the world to know through this novel about the flood, about our heroes, but also about what life was like for Aboriginal people living on Wiradjuri Country from 1850s to the late 1860s, and that who we are today as a nation reflects who we have been in the past. When we start to learn and understand the reality of the experiences of Aboriginal people throughout history, where violence and, often, rape has been part of our individual and communal histories, that that has an impact. I believe that no nation can understand and move forward in the future without understanding what's transpired in the past.
ASTRID: This may be a difficult and maybe unanswerable question, Anita. I often ask writers, how do we write about climate change and how can fiction do it better than nonfiction? I guess I kind of want to take the same question and change it slightly for you. Why is fiction more powerful, or at least why is fiction your mode of choice as opposed to nonfiction, to tell this story?
ANITA: That's a great question. There's a couple of answers. That one is because there is literature. There's a lot of bits and pieces around about the Gundagai flood. It wasn't, as far as I know, fictionalised. So I'm not writing the be all and end all of Yarri and Jacky Jacky or life on the land for women. I've written something that I want to stand alongside, to compliment or supplement whatever's out there. But also, the reality is I want women in book clubs to be reading it. I think there's a famous quote that if women stopped reading, 80 per cent of fiction would die because we buy 80 per cent of fiction or something like that. No, it'd be the death of the novel because 80 per cent of fiction is bought by women. I learnt this also with Barbed Wire and Cherry Blossoms, that men typically buy nonfiction.
But I think if I even just look at my own circle of friends, most people read novels, and you can learn... I think we need to stop thinking we can only learn about history through a textbook or a history book. I want my novel... It could be on curriculum. I want it to be in book clubs. I just think it will reach a much broader audience than having written a nonfiction work, because I know that has been the case with other work that I've done and touched on real issues and so forth. If I'm going to take two or three years out of my life and devote all my reading time and all my weekend, oh my god, a lot of my weekends and so forth, to writing something, I want it to be read. The best way to do that is to write a commercial novel.
ASTRID: You mentioned how the librarians in Gundagai helped you. You were previously on the board of the State Library of Queensland. I guess I have a question to you as a writer and as a researcher and as a reader. What is the role of libraries? Which sounds very dated, but actually is quite contemporary, particularly in an online post-COVID normal world.
ANITA: Well, libraries, as I say, are full of knowledge, and it's not just the knowledge on the shelves. I have written my books in libraries, like literally sat in libraries to write in Brisbane, in Maroubra, in Barcelona, and Paris, and New York, Gundagai. Where else have I been? Wagga. Cowra. I spent a lot of time in Cowra Library going through all the microfiche of The Guardian, The Cowra Guardian, when I was writing Barbed Wire and Cherry Blossoms.
So for me, a library is a place to gather information because they've collected all this wealth of information. Libraries are also places where authors get to meet their readers. I have so many events in libraries, and I'm really pleased to see that this year's Sydney Writers' Festival, I can be in the State Library of New South Wales for an event, and libraries all around New South Wales will also be beaming that up on screens so that their members and their local community can come in and participate in festivals that may never have even attended an event before.
So libraries are hubs, they're community gathering places for all backgrounds. I think about, I did an event at the Brooklyn Library, not Brooklyn, Queens Library, a number of years ago. What I found out when I was there is that Queens Library is the most visited library in the USA. I think there's 14 million visitors a year or something. And English is the fourth or fifth language spoken in that library. I think there's Korean and there's Russian and there's all these other things. So libraries really are more than just books. I think I see that during COVID, obviously, when libraries shut down, that there were still library loans and so forth.
But at the State Library of Queensland we have the amazing exhibition spaces, and they just turned those exhibitions into online exhibitions and so forth. Through the Moreton Bay Regional Libraries, we did this fantastic initiative where there was permission granted, five publishers and authors through ALIA to do Storytime with Aunty Nita. So for six weeks, we had online Storytime with me one morning a week. And so, really, libraries provided a facility then, well, that particular project provided a facility for parents with kids at home that weren't going to daycare and so forth. And also, the State Library of Queensland did something similar as well through kuril dhagun, and we had lots of First Nation stories being read by local peeps, which was fantastic.
ASTRID: I just love them. I am so glad that they are beginning to open up again in person in Victoria as well. My final question, Anita, because you are, of course, a reader as well, do you have any fiction recommendations for the listeners of The Garret?
ANITA: Oh, yes. Okay. So Song of the Crocodile by Nardi Simpson, naturally, which is a debut novel. Extraordinary debut novel, which is just, oh, I saw so many similarities with our stories about women on the river and so forth. I just finished Susan Johnson's latest novel From Where I Fell, I believe is the title, the series of emails between two women in different parts of the world, which is fantastic. Oh dear. Oh, Butterfly Song is one of my all-time favourite novels by Terry Janke. That came out in 2005. I still think it's the great Australian novel. Well, of course, we know that Too Much Lip won the Miles Franklin, and I loved it, I've read all of Melissa Lucashenko's books. But what I will say is my all-time favourite is Mullumbimby. It's up there. It's in my top five. So actually, I think that would make a brilliant feature film.
ASTRID: Absolutely, and what great recommendations. Anita, thank you for coming back to The Garret, and congratulations on publishing Bila Yarrudanggalangdhuray.
ANITA: Perfect pronunciation, and thank you so much for having me.