Maxine Beneba Clarke explores her gorgeous picture book, When We Say Black Lives Matter, in this 2020 interview.
Maxine is a widely published Australian writer of Afro-Caribbean descent. Maxine's short fiction, non-fiction and poetry have been published in numerous publications including Overland, The Age, Meanjin, The Saturday Paper and The Big Issue.
Her critically acclaimed short fiction collection Foreign Soil won the ABIA for Literary Fiction Book of the Year 2015 and the 2015 Indie Book Award for Debut Fiction, and was shortlisted for the Matt Richell Award for New Writing at the 2015 ABIAs and the 2015 Stella Prize. She was also named as one of the Sydney Morning Herald's Best Young Novelists for 2015.
Maxine has published three poetry collections including Carrying the World, which won the Victorian Premier's Literary Award for Poetry 2017 and was shortlisted for the Colin Roderick Award.
The Hate Race, a memoir about growing up black in Australia won the NSW Premier's Literary Award Multicultural NSW Award 2017 and was shortlisted for an ABIA, an Indie Award, the Victorian Premier's Literary Awards and Stella Prize.
In 2019 Maxine co-edited the anthology Growing Up African in Australia.
The Patchwork Bike, Maxine's first picture book with Van T. Rudd was a CBCA Honour Book for 2017. She has since written three more picture books - Wide Big World (2018), Fashionista (2019) and When We Say Black Lives Matter (2020).
Maxine has appeared on The Garret twice before - the first interview was a live event about Growing Up African in Australia, and the second was a close reading of her memoir The Hate Race.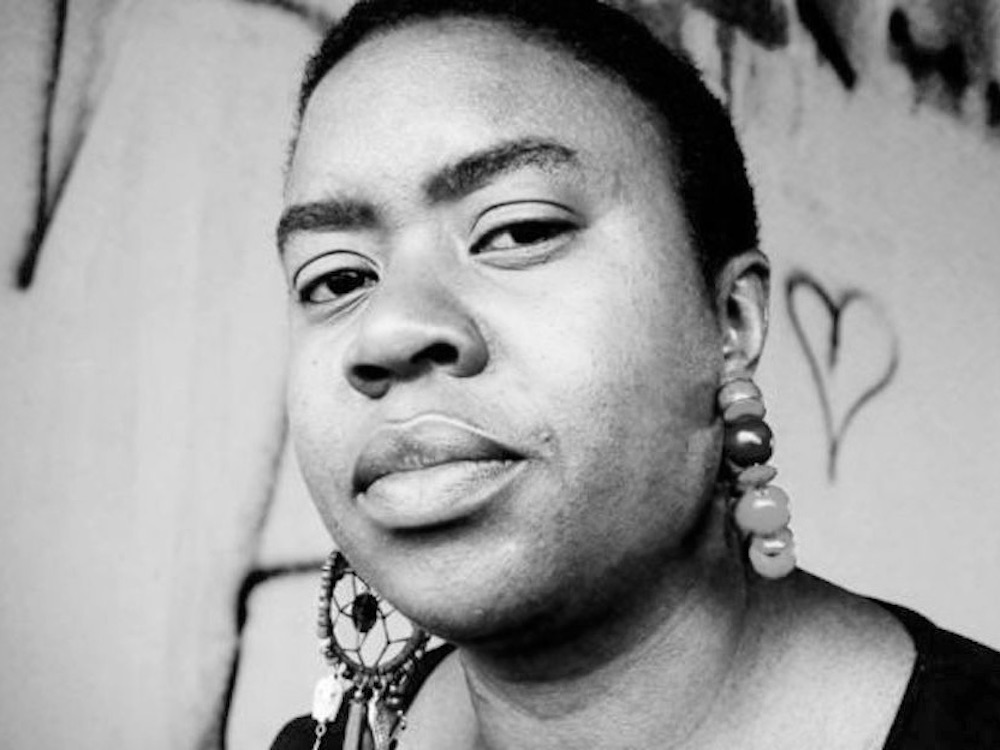 TRANSCRIPT
ASTRID: Welcome to The Garret at Home, Maxine.
MAXINE: Thank you. Thanks for having me on.
ASTRID: You are the third person to appear on The Garret three times. This doesn't happen often, and I am just going to own it publicly. I am slightly obsessed with your works and your career, and I will probably invite you back and stalk you again to come back a forth time. So thank you for giving up your time yet again for The Garret.
Now, today, I Want to talk to you about all of your kids' books and typically your 2020 kid's book. That's just out before Christmas, When We Say Black Lives Matter. Maxine, can you introduce us to your latest work?
MAXINE: When We Say Black Lives Matter is a picture book that I really conceived of during 2020 as kind of Black Lives Matter protests swept across the world and just watching protests unfold here in Australia where Black Lives Matter is very much about disparity between Indigenous and non-Indigenous Australians, and deaths in custody watching them unfold in the United States, and watching statues of colonial figures be pulled down and thrown into the Thames and things like that. And during that time, someone in my family organised a Zoom call with various family members. I think there were about 30 of us on the call and we spent so many countries from Germany to Barbados, to Australia, to London.
It was this real international phone call. And just seeing the little faces of all my nieces and nephews and cousins and thinking about what was happening globally and how to explain this to smaller children. When they're seeing images of police brutality directed against people that look like them, how you explain this in a way that's not didactive, that's positive as well as talking about why the Black Lives Matter movement has come about that kind of encapsulates black joy and black love. And so that was really the initiating idea behind the book.
ASTRID: You had published other children's books before, you have worked in collaboration with other illustrators, Van T. Rudd and Isobel Knowles, and you of course, have illustrated some of your previous works before, and you illustrated Black Lives Matter as well. I guess my question Maxine, is 2020 is the year that Black Lives Matter became a recognisable movement around the world. A topic of conversation, well, in Australia and elsewhere but Black Lives Matter is not a new movement. It is not a new social justice imperative for the world. Although you wrote it this year, have you been thinking about this longer? Or am I just hoping that you have?
MAXINE: Yes. I've been thinking about it for a very long time. So around, I think it would have been 2018 maybe, the Black Lives Matter movement actually won something called the Sydney Peace Prize. And this is a prize that's awarded annually to a global figure who contributes to peace in the world. And of course, there was a lot of contention and discussion around this because the right has framed Black Lives Matter as a terrorist movement and things like that. And so this really was an acknowledgement of that it's the civil rights movement. And so Patrisse Cullors who's one of the founders of Black Lives Matter and Rodney Diverlus is one of the founders of Black Lives Matter, Canada came to Australia to accept this award at town hall. I got this phone call saying, 'Do you want to host a discussion with the two of them?' And I kind of went, 'Oh my goodness, this is incredible'.
And of course, there's a long history of black protests in Australia. When you look to warriors and the Aboriginal resistance and the Aboriginal Tent Embassy and things like the Freedom Rides and Charlie Perkins. And so, it was this kind of incredible event at town hall that was populated by African diaspora Australians and Indigenous Australians. And it was this real kind of, I guess, the first time I'd seen those two things come together.
When I interviewed Rodney and Patrisse, they were talking about this idea that there would be this movement that would essentially be transportable. That every chapter of Black Lives Matter, would be locally run and it would look at local issues. And I think that really struck me at the time. I mean, I think protest movements have always borrowed from each other. And yes, I guess I was interested in that concept that this is actually something that has been started at a local level in response to buggers and protests and things like that. But that is very much a global thing. So it was in my consciousness for a while. And I actually wrote a piece in The Saturday Paper called 'Movement in B Major', which was an account of having that conversation with Patrisse and Rodney, and this idea that Black Lives Matter was a global movement. But just hadn't actually had that idea of transporting it to a kid's book context, I suppose.
ASTRID: I was rereading your other kids' books this morning. And I noticed that in The Patchwork Bike, the number plate of the bike is BLM.
MAXINE: Yes. And that was interesting because Van T. Rudd was obviously the illustrator of that. And so that was something that he took from The Patchwork Bike. It wasn't in the text, but you do have references to Black Lives Matter. That's the number plate of the bike. And the fact that it's the number plate that keeps falling off and they keep having to kind of drag it back and reattach it to the bike this, idea of kind of constantly having protest or be an activist. And so it was when I saw that, when he sent me that illustration, I was like, 'Yes. Oh my goodness. This makes sense'. But it came out of the mind of the Anti-run for that book. Definitely.
ASTRID: It adds a whole other layer to the texts that you wrote for that book. I have a question and I have interviewed you before for Anonymous Was a Woman, Maxine, and something that you said in that podcast has really struck with me. And I have found myself thinking about it for the last month or so. You said that this was the year that you felt you could sell this book. And if you've been thinking about it for a while, I mean you're an author and deserve to get paid and obviously that's how commercial publishing works but I kind of want to ask your thoughts on the publishing industry. Why couldn't this book had been published in 2019?
MAXINE: That's a very good question. I mean, I feel with a lot of my kids' books particularly with The Patchwork Bike and with Wide Big World, which really is kind of a tool to talk to very young kids about racism. I've been trying to push the envelope. With the Wide Big World, it was kind of I don't want to write a book that's... We're all different and that's amazing. And in the end the narrative turns that way, but it starts out with an Australian child pointing at an African diaspora child saying, 'You are brown'. And we don't know what's behind that. Is it racism? Is it just an observation? And so, I think what I've been trying to do in my picture books is kind of push the envelope, but I still want it to be published and I still want it to be in libraries. And I still want parents to... Because ultimately parents are the people who make the decisions about what children are reading. Parents and teachers and the grownups in their lives. And so I don't think I'd made... The Patchwork Bike, you have a story that's really just about a group of kids living really in poverty in an African village who have this incredible bike that they've made of junk. So there are themes there of resilience, of colonialism and all those thing but they're not overt. They're really things that Van picked up on in the illustrations. And the text is just about this amazing bike. So it's kind of, I guess, politics by subversion whereas this was just an overt, what if I want to make a book like this, 'This is the time to do it'.
I guess when I say there's a time to sell or to pitch something, it's not necessarily about the financial side. It's really about that sell of the idea that this is something we should be doing right now. And I do think there is a resistance in kids' books. When you look at the best-selling kids' books they are kind of the Spot the Dogs and the Hairy Maclarys and not that there's not a space for those books but I think what happens is there becomes a resistance to trying something different.
ASTRID: Look, Spot the Dog was around when I was a kid. And I like to think that the world really could have moved on in all of those decades.
You just mentioned parents because parents are the ones who often choose what books are brought into the home ultimately. When a parent goes to a library or when a parent goes to a bookstore and they're thinking about getting something for their kids, bringing it into their home, what's a red flag. I mean, there's nothing wrong with Spot the Dog, but also it's kind of lacking and it hasn't changed much for 40 years or whatever it is now. What is a red flag for basically kind of a ship book that won't add to a child's understanding of the world?
MAXINE: I guess, for me, I think about kids books are so important. Firstly, they encourage faster love of reading. So, there's something that's beautiful, that's engaging that kids want to ask questions about and engage with. That's not just about them reading that book. That's about their journey as a lifelong reader. And I guess I think of myself as a parent I've got two kids, they're not in the picture book age anymore. And my youngest child is 10 now, but I think kids are empty vessels and when I put something in their hand, that's filling a void so what do I want that to be filled with? I guess when I'm looking at a kid's book I'm looking at, is it beautiful? I think the aesthetics are so important.
It's not just the text. It's also about... Kids books are the first place we're told stories, are first place we see art, they're the first place we experienced that act of storytelling. And so, I just want them to love it for whatever reason. And sometimes it could be, 'Oh, this book is beautiful'. I don't think the text is that strong but just the act of looking at those images no matter what it is, whether it's about wildlife or whether it's about different places in the world. And I think also education. Books have to, they can just be a sheer, delight. My book Fashionista really is just about enjoying wearing different clothes and expressing yourself in different ways, which I think also has value. They don't have to be issues books, but I think it's about, what is the child gaining?
Is it just a random story that they are not going to remember? Or is this a book they are going to look back on and think, 'Oh my gosh, I had that book when I was a kid and I couldn't stop reading it. It taught me something really important'. So, so many different things but I think something extraordinary. That's what I look for when I go into it. When I look for a picture book. And as an adult, I also love reading not just as a picture book author, but if I see a picture book I'll just buy it because I think even for adults to look at that every now and then it's art consumption.
ASTRID: I had a very lovely five minutes this morning over coffee reading Fashionista again. It is just a delight and I have read your adult works. I have read your poetry, and your memoir, and your short stories, and your portraits in The Saturday Paper. And then just get carried away for a moment in the freedom of not doing my hair today or wanting to get dressed and go and express myself outside with the world and with my clothes. And it's just such a... Look I think that your words work at any age and I had a question about how much your poetry, your skill with words. You are a spoken word poet, you perform. How much do you bring that into your kids' books? The text itself.
MAXINE: I think that's partly why I love making kids' books. I gravitate towards writing in short form. I've never written a novel all of my work. Even The Saturday Portraits, which is a book of profiles of people and the heat race of written in short vignettes. So I kind of tend to really only write... The longest narrative I've written is maybe a story in Foreign Soil, at 10,000 words. I gravitate toward short form and all of my kids' books of poems. They're all either written in perfect or imperfect rhyme, some of them have a metre behind them. I suppose I'm using the skills that I bring to poetry to write that kid's book and then trying to bring another layer to it through the illustrations whether it's through choice of illustrator or them actually putting their interpretation on my words. I think definitely if I wasn't a poet, I definitely wouldn't have gravitated towards writing children's books.
ASTRID: I wanted to ask you which authors have inspired you. And then I realised, Maxine, that's a really lazy question but I guess maybe what I really want to know is who are the writers out there alive or dead because some children's books last for many years, who you think just did an amazing job of tapping into the emotions and the outlook of a kid in a way that can change their world, like I think your books do.
MAXINE: Oh gosh, I guess I bring it back to kids' books or picture books that I've loved whether it's reading them with my kids or not. There's a book called Radiant Child, the story of Jean-Michel Basquiat and that's by I think, Javaka Steptoe, the author's name is and it's a children's book, picture book biography of the artist, Jean-Michel Basquiat and it's really a narrative about his life. And he had quite a difficult life. His mother was mentally ill a lot of the time, he had a serious accident when he was a kid and then kind of got consumed by this art world that really devoured him as a young black artist. And so it's a complex story that has been really well rewritten for children to digest. And also the artwork almost mirrors the artwork of Jean-Michel Basquiat in the sense that it uses collage.
It looks like some of the illustrations are painted on wood. And so I feel that book has an all-around kind of synergy that really pulls you into the story. In Australia, I'm a fan of Aunty Joy Murphy's work, books like Welcome To Country , this telling of Indigenous history in Melbourne and the imagery in that book is so beautiful and the colour palette of kind of ochres and Terracotta and eucalyptus colours and things like that. It's just exquisite. I think I'm attracted to picture books where both the text and the images really complement each other, I suppose, and tell a really deep story.
ASTRID: Maxine, you've now put out four picture books, Fashionista, and When We Say Black Lives Matter which you have illustrated, and also The Patchwork Bike, and Wide Big World where you collaborated with other illustrators. I guess, this means that you are an artist as well. You are creating these images that go with your text and it's a whole different medium to express your own creativity and to explore stories, visual storytelling. How long have you been an artist?
MAXINE: That's a good question. I mean, when I was at university and I was studying creative writing, I would always choose visual arts electives. And sometimes I would have to fight to be allowed to do printmaking or to do sculpture or something like that. I think I was allowed to do one a semester and some of them kind of didn't even end up counting towards my degree. They would just kind of wanted to do the extra subject because I've just always been interested in visual arts. But just little things like drawing birthday cards for my kids when it's their birthday and things like that. And I think with Fashionista, I'd worked with Van which was an incredible experience, and I'd worked with Isobel which was another incredible experience. And I guess I just wanted a different dimension, 'What would it be if I tried my hand at illustration?'
And what happened with Fashionista is I actually had a completely different book in mind and I'd written a whole new kid's book texts that I think my publishers wanted to put out and started illustrating it. And I just thought this is my first kid's picture book. I want it to be heavily stylized. And I don't think I actually have the artistic capacity to draw the book that I want to draw. It was a character-based book that had this kind of magical cat and this brother and sister duo. And I guess I was thinking about my limitations then as an artist. And can I draw these same two characters? Sitting on chair, doing cartwheels and hanging upside down, all the things I want to do. And so I think Fashionista really was about developing skills as an illustrator. And that was when I suppose I started thinking of myself as a visual artist was like, 'Okay, I'm going to have to come up with a really specific style for this book that speaks of the fashion industry and conceptualises this idea of adults trying on different clothes and expressing themselves'. And I think coming up with that style it probably took a full year for me to decide what style I wanted to illustrate that book in. And I think it was more of the process of coming up with that style rather than even illustrating the book where I thought, 'Okay, this is actually, it's a different artistic process'. It's similar in that I'm trying out different things to see what works but different visual process.
ASTRID: So that's a long time to work on the style, the imagery that you wanted to present. In 2020, you didn't have that long to illustrate When We Say Black Lives Matter. How did you approach this latest kids book?
MAXINE: No, this was an absolute frenzy. I wrote the text first and I really wrote the first draft of the text in one evening. It was just an absolute vomit of grief and black love and black joy. And I had this poem at the end of it and I instantly thought, 'I want this to be a children's book'. And I think from start to finish, it took maybe 10 weeks to do the illustrations but I had actually half illustrated the book and then changed direction and came up with a completely different illustration style. I think the initial style I started out with was a different scene on every page of black life and kind of halfway through, I thought, 'No, I want this to feature one black family'. One child, two parents. And whilst it has pictures of the community.
There's something about the idea of a black child being held by their parents, being cuddled by their parents, standing at a protest holding a placard with their mom. This idea that everything's a teachable moment. And so because of that, the first three weeks of that ten-week process I kind of abandoned. I'd already pitched the text to my publishers and they loved it said, 'Yes, we want to do this. And it's really important. So, let's get it out as soon as possible'. I sat down, I rang my publisher and said, 'I'm scrapping everything I've done'. And he'd kind of speed saying watching the book unfold on Instagram and said, 'What you're getting rid of all of the images I've seen'. I said, 'Oh, that's going to be better. It's going to be better'. And so, it really was a pressure cooker situation, but I think it suited the urgency of the subject matter. That need to just get something out because it needs to be out now. In the end, I think it was a good thing. I don't think I'd work like that again, though.
ASTRID: Oh, 2020 is a year for firsts onlys, I hope. Maxine, I know in the past that people have asked to buy your notes, your materials, your archive, libraries and things for the record. And you talking about getting a certain way through illustrating a whole book and then it being relatively public on Instagram and then changing tack. What will you do? What would you like to do with those images, those materials that you created?
MAXINE: Oh, that's a good question. And I think this is something that I've pitched once to a writers' festival but it didn't get in getting off of the ground. When I was in I think it was Adelaide, I think it was the State Library of South Australia. I went to this exhibition. I just was walking past I don't know if it was at the library or the town hall but in any case, it was an exhibition of a children's book artist and writer named Phil Cummings. Who when I went into this exhibition, 'Oh yes, I know that book. And I know this book', but he's really done a lot of work from picture books to school readers, to all different kinds of levels for kids. And it was kind of this retrospective. It had his notebooks and sketches that he had done. And all of his books were there, and they had this section where they'd recreated... One of his books was about I think the moon landing. They'd recreated his lounge room from that time his actual family lounge room in the corner. And I just thought, 'This is incredible'. I would love to have an exhibition that's Van T. Rudd's work and Isobel Knowles's work. And that actually opens up the process to potential kids' book illustrators as well as kids.
And so, I've kind of been hanging on to things thinking, 'Oh, maybe one day that'll happen'. But also I'm an artist, I live in a heavily gentrifying area, which means I kind of have to move house every two years or so. There's a lot of culling that gets done. At the moment, I'm hanging on to all of my kids' book things and I would love to have a guest, some kind of exhibition that actually opens up the process as well as kind of... I think also because I never realised how much gets discarded as a writer I know that as part of the writing process but as an illustrator, so much time goes into, 'Does this work? Does this character look right? Can I use this page?' I think it's fascinating. I'd like to I guess, exhibit that process. Although I do have a lot of angst about ever opening up my writers archive because there's so many bad poems and pieces of writing in there.
ASTRID: Only bad in terms of what you think. Maxine, I think the rest of us would think that your bad drafts are the heights that we will never achieve. I have to say, I would love to walk through an exhibition of your work and the work of Isobel Knowles and Van T. Rudd who have had their own interpretation of your kids' books and brought those worlds to live. Maxine, you published Foreign Soil in 2014. Did you ever plan on having, six years later, four kids books out in the world, two of them illustrated by you?
MAXINE: No, it's absolutely wild and I still can't believe it, I think in my mind because that's what? Six and a half years ago. In my mind, I still have this concept of myself as an emerging writer. And I think that's a really hard to shake. I'll do things and I'll think, 'Oh, is anyone really going to be interested in publishing this book, or can I think...?' What am I talking about? This is eight books on I've published across multiple genres to varying levels of success really when it comes to kind of recognition and awards and things like that but still the ability to actually make work and put it in a library, put it in bookshop, having it in a kid's bedroom, or an adult book stand. It's such a privilege. And I don't think I'll ever get over it.
I still write. Someone asked me the other day if they could film a reading of Black Lives Matter in my studio. I kind of thought, 'I made this book on my kitchen table'. I'm sitting at my kitchen table as I speak to you now. And from time to time, I've had spaces to work. If I've had a shed out the back of the house that I've been staying in or if I've been able to rent a space for a little while but I'm still very much working the way I was working six years ago. And so, basically, there's this increased monetary success but it still feels very new for some reason and not may be because I've switched, I'm always trying something different. So it's like, 'Let's learn to illustrate. Let's learn to write a kid's book'. I think maybe that's the way that I keep it challenging and keep it fresh.
ASTRID: Maxine, I don't even know where to start. I have a list handwritten in front of me and it says poetry, memoir, short stories, kids' books also illustrated, reviews, and of course, the profiles in the Saturday portraits. Plus you auctioned a poem for authors for Fairies. And I remember trying to think, 'I'm going to bid'. And then it went so high for that poem. Maxine, not only do you cross genres but you do it really well. And I love talking to writers, clearly, but I can think of very few, very, very few creatives who can cross so many mediums, so many genres and do it really well. You just said it was a privilege to be able to do those things. It is but at the same time, it's fucking incredible and speaks to your talent. And I know you can't say that, but I really can. So that's one of the reasons why I think that it is always an honour and a pleasure to interview Maxine. You were just a brilliant creative.
MAXINE: Oh, thank you. And I mean, I do think that part of the issue sometimes is I have been really lucky in that when Fashionista was published, I was picked up by a publisher who was willing to publish my poetry and was willing to say, 'Let's see this kids' book you've written'. And yes, maybe I'll take a chance on a street artist who's never illustrated before.
And I know in a lot of cases, those chances don't pay off, but I think when they do it can just be incredible. So it's often not about, I think, people's capacity. I was saying to someone the other day I know that people have loved some of my adult books, but I feel I'm a picture book author. I feel that's where my sweet spot is. And had I been kind of told, 'Look we've developed you as an adult fiction writer. You've got an audience now that's where we want you to stay'. I wouldn't be kind of four or five kids' books down the track. I feel it's not necessarily that I'm this kind of super capable artist. You can do everything often it's just people not having the opportunity to develop in other areas.
ASTRID: That is really true. And there are so many reasons structurally in the broader publishing, writing, editing, illustrating industry but also people's last circumstance as well. Not everybody gets the opportunity, and it costs money to write. Time costs money.
MAXINE: Absolutely. I mean, this year I've been supported by a Sydney Meyer Fellowship. They have essentially salaried me for a year and there is no way I would have written When We Say Black Lives Matter. If I wasn't able to take 10 weeks to work on the book... And that's a privilege, as well having been able to go to university and get the writing skills and things like that. There are people that just aren't in those positions.
ASTRID: That is so true. And look, I don't have the answer, but the industry does need to continue to evolve and to change and to do it at a quicker pace than is currently happening. We've just listed all of the different genres and mediums that you are involved in, Maxine. And I know that there is another one on the way you are working on the screen adaptation of your memoir, The Hate Race.
MAXINE: Yes. I'm working on my stage adaptation of The Hate Race and a screen adaptation of Foreign Soil.
ASTRID: Oh my goodness. In my mind, I conflated the two because I just couldn't believe you'd be doing two, oh my goodness.
MAXINE: Which is wild. The place or the stage adaptation I started working on with the Malt House two years ago. And that is an indication of the fact that I have finally found a genre that challenges me to the extent where I'm like, 'How do I do this?' It's been a real learning curve. I think I've realised so much about my writing. I didn't realise how cinematic and atmospheric my work was when you're suddenly only given dialogue to work with, it becomes a whole different. How do I show you that this is a school yard in 1989 kind of thing. If I can't explain the people are wearing slap bands and chewing Hubba Bubba, and it's a much more collaborative process because you're essentially doing your bit and then hoping that the director and the stage designer and all those people come to the party later in down the track.
MAXINE: And then so Foreign Soil was optioned as a six-part television series by Film Camp, which is an Australian film company run by two women Philippa Campey and Sam Dinning. And again, I think they optioned it about two years ago and then Screen Australia funded us to work on a set of treatments. So taking six of the stories and writing extended screen treatments and then hopefully, we'll get kind of another part of funding to actually write the episodes. It's a kind of very long process of coming up with a vision writing treatments and then trying my hand at script writing. But I'm finding the screen a much easier medium than the stage, definitely.
ASTRID: That fascinates me and I don't know… Look, I will be buying my tickets and turning up in the post-COVID normal theatres or whatever we do because I think that your work is beautiful, Maxine.
MAXINE: Thank you.
ASTRID: Maxine, it has been such a pleasure to talk to you again and rest assured I will continue to stalk you. Thank you so much.
MAXINE: Thank you. I always love our conversations, looking forward to next time.