Dr Jackie Huggins, a member of the Bidjara and Birri Gubba Juru peoples, is currently leading the work for Treaty/Treaties in Queensland. Her biography of her mother, Auntie Rita, was published in 1994, and in 2022 she will publish her biography of her father, Jack of Hearts: QX11594. A new edition of her classic work Sister Girl: Reflections on Tiddaism, Identity and Reconciliation was released in early 2022.
Jackie is the former Co-Chair National Congress of Australia's First Peoples, former member of the National Council for Aboriginal Reconciliation, Co-Chair Reconciliation Australia, the State Library Board of Queensland and the Australian Institute of Aboriginal and Torres Strait Islander Studies. She was Co-Commissioner for Queensland for the Inquiry into the Separation of Aboriginal and Torres Strait Islander Children from Their Families, and for several years was a Judge of the annual David Unaipon Award.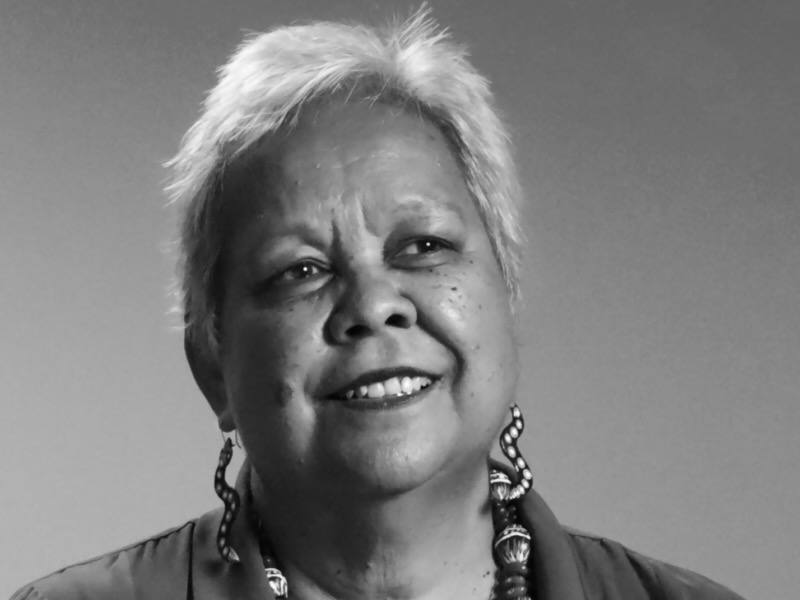 TRANSCRIPT
ASTRID: Jackie, welcome to The Garret.
JACKIE: Thanks very much, Astrid. It's nice to be here and thank you for having me on.
ASTRID: Now you have held so many senior positions that I am feeling a little bit intimidated right now, but I think I'm going to start with a really easy one. Congratulations, you have two books coming out in 2022, which is always a special thing. First up, let's talk about Sister Girl. Now, Sister Girl was first published in 1998, that's more than two decades ago. What makes it the right time to put this back out into the world?
JACKIE: Well, I think a lot has changed over two decades now. I mean, when Sister Girl first came out, there wasn't much interest at all really, to tell you the truth and to be honest about it. And around that time too, we had a lot of Indigenous people – well, a lot, it wasn't a lot, it was a handful of our writers writing life story genre, and poetry as well. But in terms of an essayist approach to it and non-fiction, well, Sister Girl came out and it was kind of a genre of its own really.
I think now is the time to giving over and passing the baton onto younger writers and writers in mid-career. Because I was around when there were first writers like Doris Pilkington, who wrote Rabbit-Proof Fence, and a lovely poet and short-story writer Herb Wharton from Southwest Queensland. And these were just after the passing of Oodgeroo and Kevin Gilbert and others.
So, I kind of was in that next wave, I guess, of writers. And now I feel we have so many writers now, Astrid, I don't even know half of them! I don't know half their names or who they are or what kind of genres they write. But it's really exciting to think in the 1980s, when I started writing, the 1980s, there were just a handful of us. Ruby Langford Ginibi, you could just count them on one hand really, and that was the beauty of it.
But now I think the time is right too. And answer to your question, because I think people are now willing to listen a lot more and willing to be educated about what life has meant for our people in Australia. So, a great interest, I think, is being generated. And really that's due to a lot of factors, if you'd ask me. I think definitely it's due to aspects of the Reconciliation process. I think that's warmed up a lot of people to understand more. We had all that fantastic bridge walks and so forth, and Reconciliation is thriving in this country, whether it's really out there or not. And I mean, people have different views about that too, but I'm a great supporter because we've always been given a Western diet of education and curriculum and study, whereas now it's kind of flipped a bit and now you are hearing all the voices of First Nations people. So now I feel very proud about that and really strong that I've been able to contribute to that issue there.
ASTRID: Jackie, I finished school in 1998. That was the year that you first published Sister Girls and I'm a white woman – I was a white girl at that stage – and I now consider myself incredibly uneducated. I wouldn't have gone into a bookstore and picked up Sister Girls, I would have thought it had nothing to do with me. And more than two decades later, I think it has an awful lot to do with all of us, including myself.
You obviously have written a new prologue to this book and I wanted to ask, what was it like personally for you to go back through your own words, your own writings from two decades ago and see both your thoughts, the woman that you were then, but also your writing style and how you express that?
JACKIE: And you're so right. People, particularly in those days, just saw it as a niche market, I think. Along with some of the antiquated, anthropological writings, to be crass but to be honest about it. And only if you were involved in the lives of Aboriginal people would you be interested. But look, I have written a new preface and trying to bring that up to date with what I was thinking then and what I think of now and the changes.
People have asked me, how has it changed? And my answer is always, little much has changed and then, well, a lot has changed. So, it's a bit of a yes and no to that answer. When I wrote to bring it up to date and so forth, I really wanted to look at my writing in those days and I wanted to keep that really because a lot of it has not changed. Some of it is, of course, historical. So that is evidenced by the archival records and records that I did. So as a historian, of course, I needed to blend that in and keep it there.
I must say about a third of the book is quite new material. They're around what's happened in 24 years and how I've reflected and looked back at it. And the pieces though, I would say the two thirds is really the kind of foundational pieces that people can go back and read.
I must say, it's not in a chronological order or a subject order. It kind of traverses all over the place and you can randomly pick what you want to read at that time, which I think is fine. That's good and I've said to some of my friends, 'Have you read this one?' And they said, 'No, we haven't got up to that'. I said, 'Well, jump all over the place. That's fine. Whatever takes your fancy at that time'.
And when I wrote the preface, I really tried to be honest with myself in terms of the changes, particularly around feminism and the White Women's Movement, as we used to call it in those days. And I said, 'Look, some has changed and some, the Aboriginal women still being excluded from International Women's Day events'. And I hear this all the time from younger Aboriginal women who want a space and want to be included and want a voice within that. But sadly, that's not being reciprocated. But I'm hoping this time around, perhaps on the 8 March, we might get a few more Aboriginal women's voices speaking there.
So, the preface, I guess, was kind of a reflection of where I was then and how I was writing those pieces, to what I am now. And even the political movements have shifted and moved on. So, I talk about issues such as ATSIC and the National Congress of Australia's First Peoples, and I bring it up right now in terms of the COVID-19, the pandemic and the global issues and movements that have taken place like the Me Too and Let Her Speak movements, and Black Lives Matter.
It was the 30th anniversary of the Royal Commission into Aboriginal Deaths in Custody last year. And I talk about the statistics there, and one a week was happening at the time that I wrote this book, comparable with the domestic and family violence deaths in our country. It's usually around one a week. And I thought, well, when are we going to take this seriously as we seem to be doing now with domestic and family violence. So those issues were really important.
I talked about June Oscar's report too. That is a blueprint, I think, in terms of the way forward. She has spent years in terms of providing the women's voices report, which was delivered to Federal Parliament in December 2020. Still waiting to hear the outcomes of that. I don't think we can blame COVID all the time. I really don't. I think that's a cop out very much when people's lives are being affected. But that's the way governments roll, and they will set their priorities. So, it was a good opportunity. I think to write the preface as I saw it then and now.
ASTRID: Jackie, governments do set their own priorities, but I really do believe that stories and books and words – and the more people who read them and engage with them, that means we change. And hopefully, eventually our governments change for the better with us.
You've mentioned making space and noting that so many different people are getting their voices published now. In Sister Girls, you include an interview that you did with bell hooks. I believe that interview was in 1996. We lost bell hooks last year at the end of 2021 and for readers, they should read your words and your interview with bell hooks. But I wanted to ask you about who has influenced you like that within an Australian context?
JACKIE: Well, when I started to write the issues that I'd seen and felt and heard around issues that were happening to us domestically, there was absolutely no one who was writing that stuff. No one. I looked towards the Black-American women writers, such as bell hooks, Audre Lorde and Alice Walker, because there was nothing being reflected in Australia at that time, to me, apart from that wonderful novel from Ruby Langford, Don't Take Your Love to Town. For Ruby, who's passed over now, if I could just pinpoint an Aboriginal woman writing closest to what I wanted, it would've been Ruby Langford. But look, apart from that, there was no one.
Now, there's a whole proliferation of young women writers that just are doing it on their own style and in their own way. So that's been fabulous that they've carried that on, I suppose, and really felt it was important to talk about those issues. But I can honestly say there was absolutely no one who was inspiring me to move on. So, I kind of read and read. And I was doing a lot of university study too, at that time in the 1980s, reading a lot of text and I got my information through them.
But now, it's unfair to name the writers and the poets that I love because there are just too many of them. And I know that they probably would not be happy if I didn't name them. So please don't get me to name anybody because they're all really terrific and I salute them, and I think keep writing because there's some really strong stuff coming out. And even back in those days, there were no people who were writing that much fiction.
ASTRID: Really?
JACKIE: Really. Not at all. There was one young male writer here in Brisbane who was doing a science-fiction kind of genre and I wished he would've finished. I wished he would've written more, and I encouraged him, but obviously life gets in the way and I guess people have other priorities and he didn't finish to do that. But I'd like to see some of that as well in the future. It's there. It's really out there.
ASTRID: This might be forward of me, Jackie, but I like to think that all of the younger writers that you very carefully didn't name then, may have read your work and may think of you as someone who opened up the path for them.
I'd like to switch now to the idea of writing a biography. Now you wrote and published your mother's biography in the early 1990s. And later this year, you're going to publish your father's biography. Now, biographies, they're quite intimate because you spend such a long time researching and thinking about this person. And I know you have spoken about writing your mother's biography before, but I guess, as you're about to put your father's biography out into the world, what was the process like, and has it been different for you this time with more experience?
JACKIE: Well, my mother's biography, Aunty Rita, was written in 1994 and we had a wonderful 14 months of celebration of the book before she passed. And she was ever so happy and grateful that we'd done that. It took seven years to write, my longest time in terms of writing. I had a small son then and of course his needs needed to be met. I was a single mum and there was a lot going on in my life then, and my Mum always used to urge me on to write it and certainly get it finished for her. And luckily, we did.
Now I had her physically on tape telling her stories to me back in those days. The technology wasn't that fancy, there was no kind of internet and so forth. So we sat down, did the good old-fashioned way where I'd pull out the tape and say, 'Okay, Mum, away we go'. We might have a little fight. In the book it's called 'fighting with our tongues', or 'the mothering tongue'. Off would go the recorder for three weeks. And we would come back to it like nothing happened and wasted three weeks, but they were beautiful times anyway.
This time around with my father, Jack Huggins, he was a prisoner of war in the Thai-Burma Railway or the Death Railway, and of course, we didn't have him. He died when I was 2 years of age. But I had him through the memories and the stories of my mother. In fact, she would talk about him every day. It was like he was here or she'd say, 'Your father would be so proud of you'. Or, 'He loved the colour blue'. It would go on and sometimes you kind of shut her and think, 'Oh, Mum, okay, all right'. But she would repeat herself about that and that's fine. And so in a way, I think we felt like we did grow up with our father through her stories about him.
And I thought I really need to write his story too, to honour that presence. Now I've done the biography with my sister. Her name is Ngaire and I've dedicated Sister Girl to her too, because she's my truest sister girl in every sense. So Ngaire and I sat down over, it was the long time of the COVID period, and we sat down. We had a great friend in Melbourne that we'd send drafts to, and Alison would help us craft it to the point that it was lovely. When we sent our manuscript to publisher Magabala Books in Broom, the editor said it was a near-perfect manuscript. This came from the editor who'd been in the business for 30, 40 years – as long as I have. So, that was really nice to know that we'd shaped it in that sense and there was very little editing to be done.
But this work, of course, along with my mother's, we had to do archival research and the Queensland Records for my Mum. But for Dad's, we did the War Memorial, the Trove, we had a wonderful woman helping us there doing the military history component of it. Her name was Katrina, and together we worked that way. It was hard slog in terms of I'm not a great believer in getting everything. In fact, I know it's very thorough and you should do that. And Katrina helped us do that because I wanted to do the more visionary stuff to get the story out there, but also it was very important to combine it with the historical records, which makes it more, of course, for the reader, believable but also authentic.
But we wanted the oral history to really shine through and to come out. And I think probably that's what we've done. So, Ngaire and I are very excited about it coming up. Astrid, in fact, we should have the book in our hot little hands next week.
ASTRID: That is so exciting. And can I just say, no one ever gets such high praise from their editor, particularly when a book is co-written because that is a really hard thing to do. So just really well done.
And can you talk about how you and Ngaire worked together? I mean, obviously it was an incredibly successful collaboration, but how you actually worked together to get the words on the page?
JACKIE: She actually lives 5 minutes up the road from me. So, distance was no problem. And she's a teacher. She would come here after school we'd sit down sometimes and work into the night. And I'd do the big cut of it because I had more time and I loved writing, but she likes it too. But for me, I kind of took a lot of the ownership over it. But it was always collaborative, including her. This is her first time as a writer, and since 1994 actually I had all that experience and I've written on numerous articles and pieces all over the country and in history and women's studies journals. But for Ngaire it was a really good experience for her. We get along well anyway. We love each other unconditionally. So, we never had any fights really. But I was very conscious that this was the first time in terms of putting that book together and to be patient and to be really conscious that as a first-time writer, it can be really daunting and hard. I think she relied on me in terms of my experience and the books that I've done and the other work I've done.
So look, it was really liberating, I think for both of us and I have done collaboration of writing with other authors before, but not your sister. And I think, Astrid, this is the first time ever, I even think that a biography done about your mother and your father – which is a very brave thing to do – has been done. If not in Australia, perhaps globally, I can't think of any others.
ASTRID: Nor can I, and you just preempted my question, which was basically going to be, I've never heard of this happening before, it's such a way of honouring your parents and their life and their family.
JACKIE: Yes. And to bring those voices forward. And both of them though, were not typical of people of their generation, or men and women going to war. And my mother's experience in the domestic service, and establishing some of the political issues here in organisations in Brisbane when our people were coming from missions and reserves in search of employment, housing, and education.
My mother was involved in an organisation called OPAL. And that set up a framework by which our people could have people to talk to their own and so forth. And for my father, he was one of 50 Indigenous soldiers sent up to the Death Railway. Soon as he landed, a couple of days later, he was sent up to the railway line where he stayed for the duration of the war. So, he was 20 years of age, and you can imagine when he came back. It surprises me, Astrid, how he came back and he fathered three healthy children.
His life was cut very short. He was 38 when he died and we were just little kids then. So, I thought it was fitting too to bring out those stories for our people as well. Hopefully to inspire them too to write books and I think if that's all I can do, well, I think that's going to be really fabulous. And of course, to let other people who want to read it, read it.
ASTRID: I am really looking forward to reading this book, Jackie. Many years ago, when travel was more done than it is now, I did visit the Thai-Burma border and the very small memorial to the Australian soldiers at the Death Railway. It is an incredibly different way of remembering Australia's role in the war, and not the European stuff that so often figures in our curriculum, as it should. It's just a very different part of Australian history and I am looking forward to reading about your father's story.
JACKIE: Yes. Good. And, of course, we needed to research so we went there three years ago to do the trek and have a look and see exactly where he was, the path that he took, cutting through those rocks. You've seen it, Astrid.
ASTRID: In the heat? Oh, yeah.
JACKIE: Horrendous. In the heat, same old uniform, sometimes barefoot. And don't even get me started on the diseases that they got. It's all revealed there. But a lot of them didn't live to full ages, then there's the other story about when they came back and the treatment they received, which by and large wasn't good. So, it was a really important story to write. I think my family's pretty lucky in terms of they've got a lot of history now and information to look at. But the wider public too, it's good knowledge for them too.
ASTRID: Would you ever consider writing your own autobiography?
JACKIE: Yes. I would. In fact, I keep saying I've got a few more things to do yet in terms of what I want to accomplish, perhaps maybe another, I would say maybe 10 year's time that would be an option for me. My papers, they're at the Australian Institute of Aboriginal and Torres Strait Islander Studies in Canberra. And they've been there for 30 years. So, there's a lot of good material I could get to, as well as my good memory. So yes, look, I have. I know it probably sounds all very self-indulgent, but I think it's very important don't you?
ASTRID: Absolutely. Autobiographies and memoir are not self-indulgent at all. It is a critical part of how we all understand the world. Please do write your autobiography or memoir.
JACKIE: I will.
ASTRID: Jackie, I have a final question for you. And that's because you were a judge for several years at the David Unaipon Award and I'm fascinated by the role that literary prizes play in publishing in Australia and what we all get to read and write and who gets to write and the opportunity to be published. And I wanted to ask what was your experience as a judge? And I guess, how did that opportunity of reading new work influence you?
JACKIE: Well, this was a long time ago, Astrid, way back in the beginning of the David Unaipon Award, which was in the 1990s as well. I think I was on there for about five years and I must say, we would get 10 manuscripts and think that's fantastic. 10 manuscripts that was huge to us. Now, I can't imagine how many they would get. I think they would get many. Well, I was told that UQP, which is my publisher, almost half of their books are coming from Indigenous writers now.
How phenomenal is that? And so, they really publish hard on this. And what I've seen too, is that there's a lot of mainstream publishers now looking at publishing rather than having it all in a niche, Aboriginal publishing house. And my experience there was really good. They were really early days but the unfortunate thing was there were writers that actually won the award and then it was just the one-book wonder, and you never heard from them again. And those writers back then and those times, but I think it's different now because the writers who actually win that award go on to do more books and poetry or fiction, less so I think life story these days. But usually, your first book's always based on an autobiographical kind of story about you because it's so easy to get into the writing then. That's really nice because there is now more First Nations writings around the country and that they're being read out there, they're winning prizes which is lovely. Not only the David Unaipon prize. All of them. I mean, mainstream prizes and the Miles Franklin prizes, the Victorian Premier's Award. And that makes me proud to see. Our books now can compete with any book that is put up there in our country.
ASTRID: Without a doubt. Jackie, it has been an utter pleasure to talk to you today.
JACKIE: Thanks very much, Astrid. And it's been a wonderful pleasure to have spoken to you too.