LIVE | Robbie Arnott at Canberra Writers Festival
Kate Mildenhall and Robbie Arnott recorded this session Into the Wild LIVE at Canberra Writers Festival in August 2023.
Robbie's acclaimed debut, Flames, won a Sydney Morning Herald Best Young Novelist award and a Tasmanian Premier's Literary Prize, and was shortlisted for a Victorian Premier's Literary Award, a New South Wales Premier's Literary Award, a Queensland Literary Award, the Readings Prize for New Australian Fiction and the Not the Booker Prize. His follow-up, The Rain Heron, won the Age Book of the Year award, and was shortlisted for the Miles Franklin Literary Award, the ALS Gold Medal, the Voss Literary Prize and an Adelaide Festival Award. Limberlost is his third novel. It won the Age Book of the Year Award and the BookPeople Book of the Year Awards, and was shortlisted for the Miles Franklin Literary Award.
This recording took place at 2:30pm on Sunday 20 August at Kambri Cultural Centre (ANU), and thanks go to the phenomenal team at Canberra Writers Festival for sharing this audio with us. If you are interested in running festivals, judging prizes and writing reviews, we recommend this interview with Beejay Silcox, Judge of The Stella Prize and Artistic Director of Canberra Writers Festival.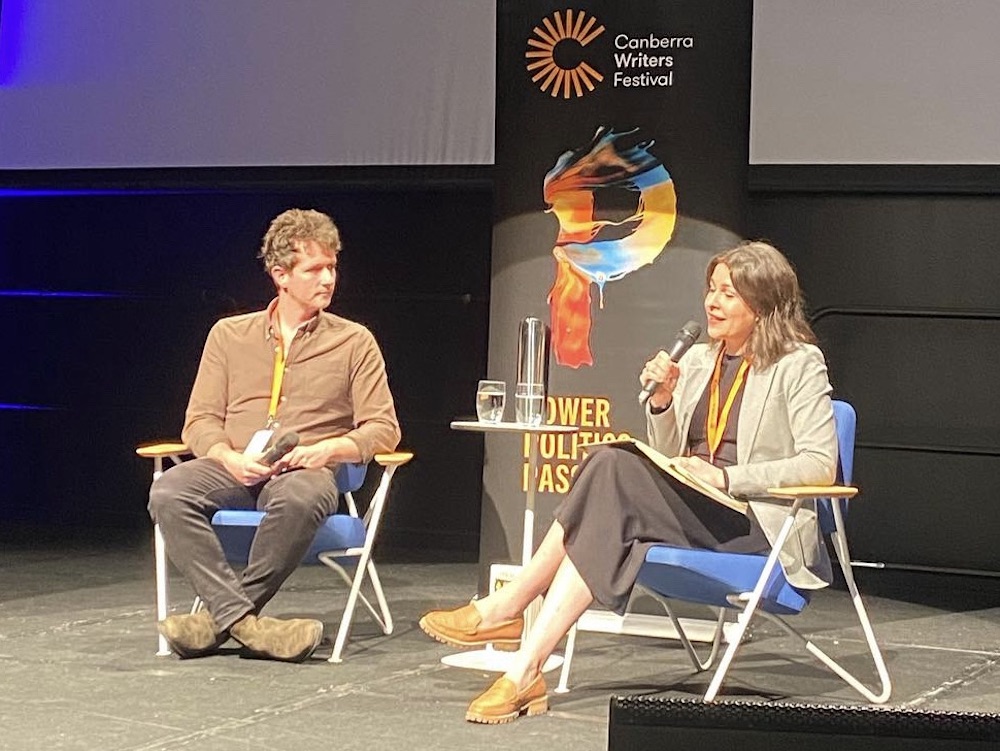 TRANSCRIPT
ASTRID: Hello, everybody and welcome to this afternoon session with Robbie Arnott at Canberra Writers Festival. My name is Astrid Edwards, and I am your host for today.
Now, this afternoon, we are gathering on the lens of the Ngunnawal People. On behalf of all of us here, I acknowledge them as the Traditional Owners of the land and pay my respects. I also would ask us all to think about how we are here to celebrate the sharing of stories, which has been happening in this place for so many tens of thousands of years.
Robbie, everybody here is here to listen to you. And they know your bio, and they know your words. Before this session, I asked Robbie, what do you want us to talk about? Or maybe what he doesn't get asked a lot in public. And he told me craft. Robbie, you're going to teach everybody about your craft today!
ROBBIE: I think I've made a terrible mistake because I'm a poor writing teacher. Unlike most writers, I don't run workshops or anything because I'm terrified that I'll just waste everyone's money because I don't know how to try and teach what I do. But I really like talking about craft because it's a strange thing. You sit at your laptop or at your desk for hours and weeks and months and years. And you end up with this book. And then everyone just wants, a lot of people just want to know who the characters are based on in real life. So, it's nice to be able to talk about that.
ASTRID: By way of leading to some of my questions, I did just want to kind of briefly talk about how your books had been received. You have published three novels, the most recent, of course, is Limberlost here, which was published last year. It was shortlisted for the Miles Franklin and it won The Age Book of the Year award. But prior to that, in 2020, you released The Rain Heron, which also was shortlisted for the Miles Franklin and won The Age Book of the Year award. That's impressive, Robbie. Before that there was Flames, for which you were named one of the Best Young Novelists by The Sydney Morning Herald. I'm not even going to list the other awards, because it's very, very long.
My question for you coming from that… when we think about your craft, does this public recognition change how it feels to sit at your desk? Change what you think people are going to expect of you? Does it mess with your mind?
ROBBIE: It doesn't that much, to be honest. I'm really, thankful for the award stuff. It allows me to keep publishing books, which is great, because that's what I want to be doing. But it doesn't really affect me on a day-to-day basis, right? Because I live in Tasmania, where I'm not part of some literary scene or anything really.
ASTRID: You know, there's a lot of great Tasmanian writers.
ROBBIE: Yeah, but no one's talking to me about my books every day or anything, or saying 'what's going on the next one?' No one in my cricket club cares. They'd get very angry if I bowl a few down leg, but they don't really notice if the book does well or doesn't. So yeah, I put quite a lot of pressure on myself. I'm a bit weirdly intense with my own expectations of myself. But no, it doesn't mess up the writing too much. Like everything else does, but that stuff doesn't.
ASRRID: Let's unpick that. What do you mean by you put pressure on yourself? What do you want yourself to achieve? Or what is that pressure?
ROBBIE: We we're talking about before. I listen to this wonderful podcast. It's called The Garret, and it's hosted by Astrid Edwards. And a few years ago, I was listening to an episode you did with Michelle de Kretser. She said this wonderful line that has always stayed with me, which is 'literature lives in the sentences, and you need to pay close attention to the sentences because that's where the real art and the real beauty happens'. I took that on so profoundly.
When I mean being hard on myself… I can't really walk away from anything I've written until I've tinkered with it and pressured it and tested it hundreds of times. I was talking to another writer at a festival last weekend, and he said, 'I just write a whole manuscript, I don't read any of it, and then I've got a draft and I go back and start fixing it'. I started getting secondhand anxiety even thinking about that. I was like, 'I can't go to sleep until I've messed with a paragraph over and over and over again until I can move ahead'. It's not a good idea. But it's the only way I know how.
ASTRID: Look, I would beg to differ. It seems to be doing marvelous things. But when you're messing with the paragraph, I mean, are you reading it aloud? Are you wandering around outside? Are you staring at the delete button? How do you meet your own expectations so you can move on?
ROBBIE: There's a lot of reading out loud. Reading and recording my reading of it on a Voice App and then going for a walk around the block and listening to it to see if the ear for it is right. Going over it over and over again. Deleting commas, rearranging the structure of the sentence, convincing myself everything's too passive, and then everything becomes way too active and is no longer believable or real. I know… we know in the process of when we need to leave it alone, because my editor David Winter and I will have long phone conversations about a comma, about splitting up a sentence, and one of us will say, 'This is just getting stupid, we need to move on'.
ASTRID: Before we dive into your comma work, I wanted to keep the three novels that you have published in mind and ask you, you know, sitting here on stage in 2023, how do you look back and see, for example, Flames, which you published in 2018? Would you write it the same way? Do you think of you as a baby writer? Are you just proud?
ROBBIE: I don't think I would write it the same way. Now not because I have any particular problems with it, I think you just evolve and grow in anything you're doing. And anything any of us will do, we do differently. But like, I'm really stoked with how much people connected with that work. I didn't have a publishing contract when I wrote it. I was just coming home from work and doing it at night and messing up my obligations. I was really surprised I got published, because it was almost an experiment. I just wanted to write a book where every chapter was in a different genre, told from a different perspective. I just wanted to see if I could do it, because everything else I was writing was going awfully. I thought if I just try and have heaps of fun, maybe that'll work. And there's some chapters I'd change, but I never want to say which ones they'd be because they might be someone's favorite chapter. I think that'd be crappy if you liked a book, and then the author came and said they didn't like the part that you liked. I'm never going say that.
ASTRID: You're such a gentleman.
ROBBIE: Oh, no, no, no.
ASTRID: We're going to talk specifically about Limberlost. And Robbie will be doing signings directly after this, I encourage you all to, if you haven't already, buy the book, get Robbie to sign in and read it later on tonight. But before we continue, I wanted to let you all know we will, Robbie will be taking questions from you. I will let you know as we get closer to the end of the session. There are two physical mics down near the front of the stage, so please think of the things that you would like to ask Robbie instead of listening to me rabbit on it at him and talk to him yourself.
Robbie, let's dive into Limberlost. I suspect most people have read it. But for those who haven't yet, can you give us the high-level intro to Limberlost so we can then pick it apart?
ROBBIE: Yeah, sure, I'll give it a crack. Limberlost is about a young man named Ned West. It follows one pivotal summer in his life in the 1940s in the northern Otways in Tasmania as he's growing up on an orchard. His brothers are way at war. He doesn't have a mother and his father and sister are attempting to keep the orchard running. All he really wants is to buy a boat. And he feels very conflicted about his responsibilities to help with the orchard while also this desperate dream, he has to own his own boat. The novel occasionally flashes forward to other moments in his life, and we come to see how that one Summer comes to shape his entire life. We see all of it by the end really.
ASTRID: There are several ways I would like to go into Limberlost and explore your craft, that is talking about how you interact with and represent animals and the non-human on the page, how you deal with time, how you deal with place, you know, the land, the waters, the skies. And it's also – and this is probably the hardest question – how you position yourself as a White writer, as a Settler writer, writing about place and land and history and time. To begin, let's go with animals and the non-human.
To kick us off. Would you do a very brief reading for us?
ROBBIE: Okay, sure. This is what we planned earlier. This is from the very start of the book so I'm not spoiling anything.
It was believed a whale had gone mad at the mouth of the river. Several fishing boats had been destroyed in acts of violence so extraordinary they were deemed inhuman. Each attack had come at dusk, while the boats were passing the heads on their way back to port – the same area where plumes of spray were supposedly erupting from the water. Transport ships reported powerful, mournful vibrations ringing through their hulls. Gulls flew strangely; cormorants seemed skittish. Ocean swimmers' strokes were thrown out of rhythm by a high, ancient melody that rose through the brine. A fluked tail had been seen troubling the waves.
Net was five and all this happened. In later years he struggled to remember the incidents clearly, but at the time it was all anyone was talking about. The animal had been harpooned far down south, someone's uncle said, and after fleeing north was now visiting vengeance on any ship it encountered. Another version of that story claimed that the harpoon had lodged in the whale's brain, turning it feral and vicious. Another was at the whalers had missed the beast but not its pod, and the creature had been driven insane after witnessing the slaughter of its family.
There were other theories too, ones that didn't include whaling, ideas of linear imbalances and divine judgment, although they weren't paid much attention. Most held the southern whalers responsible for fouling the animal's mind. There was talk of writing letters, demanding reparations, getting the council involved.
'It's nonsense,' Ned's father told his children. He'd caught them whispering about the wrecks at the dinner table, unaware he'd returned from the orchard.
'There is no whale,', he said. 'No monster. Fishermen do three things: they drink too much, and they make things up.'
He took off his coat and hung it on a hook by the door.
'What's the third thing,' asked Ned's eldest brother, Bill.
Their father levered himself into his chair. 'Occasionally they catch a fish.'
ASTRID: Thank you. That is how Limberlost opens. Now, the whale and the imagery of the whale, the emotions of the whale, Ned's memories of being told about the whale, recur throughout the novel. I thought we'd use that as a starting point to ask how do you treat animals and the non-human? They are characters, they are in no way dismissed as I think we often do in our lives and in a lot of fiction.
ROBBIE: I'm just fascinated by our relationship with the natural world and particularly animals and wild animals. I think it's interesting to explore fiction, because when we're faced with a wild creature, we're completely yanked out of the civilized world we know and all the comforts and manners and ways of behavior in which we know how to conduct ourselves. All that flies out the window when we have to revert to an almost animalistic reaction in relationship with something. I find that fascinating. And what it does do is to the people we become when we're put in those situations, you can't talk to a whale no matter how much you try. I find myself writing about animals over and over again. I never really do it deliberately. There are all these animals in all my books, and I've never sat down and thought, 'I'm going to write about this animal'. This is what I really want to do, it just kind of comes out. Because I really don't know… I am really fascinated by that.
Look, the best thing about it that's come from is… I wrote about a quoll in this book. I sent the manuscript to my British publishers, and they got back to me and said – and because in my first book two books there is all this made-up stuff – 'Oh, this is marvelous, marvelous, Robbie. Wonderful. This character of the quoll you've invented, it's so ingenious. It's this dashing little creature'. And I'm saying, 'No, it's real'. And they're like, 'No, we know what's real in the book'. I'm like, late at night, emailing photos of quolls, just going, 'It's real, it's real'.
ASTRID: That is a funny story. I want to push you a little bit on this one. I am going to be thinking about that quoll for a long time, the interaction between the quoll and Ned over time, and how Ned remembers the quoll and thinks about it decades later. I think I lack the language to ask my question, but there is so much respect inherent in your work at the sentence level. And look, I read a lot and there is so much beautiful literature out there, but I am not quite sure anybody treats the natural world, any White writer treats the natural world, with such respect and honor, almost.
ROBBIE: Thank you. Look, I think the world is as interesting as the people in it. I try and treat every aspect of the world I write about in the same way I would write about the most incredible, dramatic, amazing thing that would happen to a person. I think all of it is just important as itself. And that's how I approach it. And so, when Ned has this relationship with a quoll because he also feels this deep respect and connection to the natural world, he doesn't possess the language for it. He doesn't know why, and he never knows why. There's no neat arc of character growth from a Marvel movie for that, he never really gets a hang of it. But there's something within him that knows that there's something really powerful and incredible going on with the world around him, and he feels this deep relationship with it, even if he can't articulate it. T hat's I think that's what occurs with the quoll.
ASTRID: Moving from animals to place at various points in his life, you know, forests and logging, he is often interacting with the natural world. In his professional life as well as living there. The scenes with the logging, I felt I could smell the sap. I wanted to know when you sit down to write, are you writing the perfect scene? Are you writing an imaginary place that is obviously informed by experience? How do you create those logs that Ned saw,
ROBBIE: First and foremost I think hard about what the emotion of the scene is, and not just the emotion of the character, but the atmosphere, the emotional atmosphere, or what's occurring both in how someone is feeling and how the world feels around them. I focus hard on that. And then after I figure out the atmosphere and the emotion, then I delve into the description. But that always comes first, because I think that's what I'm hoping to achieve with my work, to create something that feels distinctly emotional at times. That's what I like reading, when you read a passage or you read a page and you put it down and you go, 'Gee, I now feel different. I don't know why. I don't know how some scene with an old tree has done this to me, but I feel shaken up a little'. And that's always what I'm aiming for.
When I started writing about the logs and the logging crew and logging on the east coast of Tasmania, part of that came from stories that my grandfather told me, part of it came from when I went and looked at the White Knights, which are still standing there. But a lot of it came from the imagination of the emotion. I hope… Does that make sense?
ASTRID: You're allowed to say whatever you want. And yes, it does make sense. You just mentioned that you read when you are deep in the crafting of your own work. Do you read other people's work? Or do you kind of put up a wall?
ROBBIE: No, I keep reading. Yeah, all the time. I just really like reading. I really hope I'm not going to offend anybody. You know, when you meet someone, and they say, 'No, I don't read books'. It's like talking to an alien. What do you what do you mean, you don't read books? I don't know, I've got a really good friend, and he asked me what sort of books he should have in his house. 'What do you mean, what sort of books you'd have in your house?' 'We've got these bookshelves?' How do you answer that question? We didn't talk for a while. No, no, I just said probably only get the ones you want to read. He's like 'S tuff that then, I'll put up photos'.
ASTRID: 'Get your books', that's what you should say next time.
I'd like to ask you about structure, and specifically, the use of time. This is a novel about Ned. Predominantly, it's his viewpoint, we follow his life. But I noticed so much of the stuff in Ned's life, maybe pivotal moments, you don't show the actual thing. You show the lead up, you show the reflection afterwards, you show what happens the next day. For example, the crash that hurts the boat, we don't see this thing that is very meaningful. But we experience it in Ned's emotions looking back in time.
ROBBIE: Yeah. And that all is quite deliberate. I'm not interested in writing action for actions sake, or I don't think I'd be very good at that, I'd be quite poor at it.
ASTRID: I was trying to imagine you wrote in crime, and I could not do it.
ROBBIE: No, I can't. I have lots of crime writer friends and I have to awkwardly say, 'Look, I don't read crime books'. And they're just like, 'You prick'. I admit, I'm not going to steal this line, because Amanda Laurie said this line to me. She said, 'You know, I can't read crime, because I don't care who did it'. I feel the same way, but I'm not as eloquent as her. But yeah, I'm not so much interested in presenting the action on the page as exactly what happens because that's not what's interesting. For me what is interesting is how it makes people feel, and the emotional turbulence that occurs after something like that occurs, and what resonates and ripples throughout people's lives after something profound or significant happens. That's what I'm interested in. Not the blow by blow of something happening. I skip that part and get to how it feels.
ASTRID: Staying with this for a moment, you know, how do you plot it? Do you write everything and then start moving bits of Ned's life around, so you have that emotional impact on us as we read? Because you playing with our emotions?
ROBBIE: Yeah, so maybe when you put it like that, it's not a pleasant experience. I don't really plot things out at all. I know where I want to go, or I'll have a moment I know I want to get to, but I don't plot it out. I need to figure it out while I'm writing and walking, walking around Hobart in circles up and down the hills and the mountain a lot. And then I guess the plot side of it works itself out in my head as I walk and type, but it's weird. I don't ever feel like I'm doing the work. I feel like it was always there and it just had to resolve itself, and then I just feel relieved. I just think, 'Oh God, thank God', rather than 'Hey, yeah, I've done something'. I just feel relief at the end of a paragraph, at the end of the day when your editor says it's okay. It's that moment when you figure out what needs to happen in the work. And you realise it feels like it always had to be that way.
ASTRID: I feel like we're getting close to a discussion about the Muse. But like, the act of writing is different than the act of publishing.
ROBBIE: Yes, very much.
ASTRID: You are a writer. But you also choose to share that writing with us. I'm kind of interested in that gap. What do you want us to feel? What are you trying to share with the world, like the impetus to publish?
ROBBIE: I guess I feel a strong compulsion to write. I always have, I don't really understand it. I don't really have any other discernible skills. I saw footage of myself bowling and cricket, and I was so terrified at how slow I bowled that I can never watch it again. I don't really have any other skills. But I feel compelled to write into publish and share works because I think books – and novels in particular –function well as a two-way conversation between an author and a reader. I think readers bring their own set of experiences and their own relationships and everything going on inside their minds to a work, and then they get their own version of that book.
You have this great moment where, essentially, I've said this, something was shaking me up. Something was messing around inside me, and I didn't know what to do. And I had to write about it. Do you feel this way too? Is this something that resonates with you? It may resonate differently. And it will have a different effect on you than whatever was happening in my head. But I will love the connection that you can get between people, when you say 'Is this strange? What does it mean to you?' And it means different things to different people. I think that's why I love that sense of connection. I think the world's better when people write books, and then people read them.
ASTRID: I agree. I'd like to spend a few minutes on Ned's Dad. He doesn't say much in the book or in his life to the people around him. He is quite solitary, sometimes he doesn't talk to his children or neighbors. And yet, even though he was quite an inactive character in the sense of, you know, big action sequences or anything like that, I found his presence incredibly profound. You know, we know that he experienced World War I, we know that he lost his wife and has four children, three boys and a girl. We know that he works in an orchard and the orchard is in some financial distress. And then you just let us feel things. I have a feeling that in the hands of many creatives he would be a very distant character in the background, whose function in the story told us a bit about Ned and how he might grow up to be an adult and relate to people. But even though you don't show him, I really want to for the writers in the audience, how do you bring a character like that into being when he doesn't do very much?
ROBBIE: I think creating him and having him there was the key to it was always having him through Ned's perception, we don't ever seem unless he's in some sort of relation to Ned. He is there on the pages because it's third person narration, so we're seeing him in a reasonably objective way descriptively, but it's always through the fog of how Ned perceives him. That adolescent emotion of how one perceives their father brings that shape around him. He doesn't really understand him. The thing I wanted to bring to life with Ned and his father, between them, is this very real concept of Australian masculine tenderness, which I'm very interested in. I wanted that to be present because it'd be very easy for Ned's father to be the stoic Australian Bushman, who is inarticulate and gruff with a heart of gold. But he's stranger than that, because people are stranger than that. Everyone is infinitely weirder and more interesting than whatever cliched version someone might describe them as, and I wanted him to be there… He does exhibit a few of these cliche tropes. He speaks in actions rather than words and things, but because we see him through the cloud of Ned's eyes, I think we get the shape of the thing.
ASTRID: To put this story into the historical context, Ned's Dad experienced World War II, this is set in the 1940s. And to have Ned's older brothers go off to war… There's a little bit of correspondence, it's all through young Ned's eyes. We don't interrogate war as such. But it is an exploration of what family life was like, what it meant to have people go off to war, what it meant if you thought they weren't coming back, and what could that do to those who are left? I know at one level, that's worldbuilding, Robbie, but also, how much are you aware of bringing that kind of thing in and giving more for your readers to consider? You could have left the war out, and it still would have been a beautiful novel?
Oh, thank you. I guess elements of the historical context are there because I felt it was necessary for the story not to have snags. I think if I removed too much of that historical context, it would, almost be an exercise in showing off a little bit. 'Look at all my nice sentences, but you don't really know anything about this place'. I felt that would just be annoying to a reader to go, 'Well, yes, I get it. But where is this?' I just tried to get the balance right of putting enough in there so that there was less friction for the reading experience. That's not trying to cater to particular readers or anything, it's just me thinking how I would get what I really want in there, how I would want someone to feel and how I would get all the emotion I want in there without anyone being too snagged on, on things and questions that might arise? I wasn't interested in writing about war at all. I don't know anything about war. But I felt it was necessary for the context to be more seamless.
ASTRID: You just use the phrase catering to readers. We've touched on your impetus to write and then share with the world. But now that you have three novels out there, I am interested – this is an impertinent question – but what you think of us who read your work? What is your perception of the people who read your book, your work, borrow your work by a worker come to a writers festival to hear you talk about your work?
ROBBIE: This sounds like it's the right thing to say, but honestly, it's just gratitude, and thanks and happiness, because it's like sitting down and reading – not always the easiest thing in the world to do these days, as we've all got phones… most people don't read fiction. It's weird to talk about what people who read fiction – and I'm one of you – you go out on the street and a lot of people, you know, like the guys, my wife's friends, husbands at barbecues, who say, 'Yeah, mate, I don't read fiction. It's made up'. You know, I hear that all the time. It doesn't personally offend me, it just makes me a bit sad, because one of the primary functions of my life is to read fiction and to have my mind stretched and ballooned and messed up a little bit all this in a fictional world. I wouldn't know any other way to live.
When people read things I've written, I feel grateful because I put effort into it. And they are then in turn putting effort into the book. I worked in a bookshop for six or seven years, I studied English at University, I'm pretty committed to the world of books. It does feel like belonging to this great community.
I know you've got your own podcasts about books, you you're one of the best readers in the country, how do you feel?
ASTRID: I think writers are the best people in the country, which is why I interview. I also believe in the power of words. When we talk about loving being readers and loving fiction – and you've just articulated that beautifully, Robbie – we get close to that idea that fiction can do something. I'm biased, I think it can. But what do you think that thing is that fiction does? Like it entertains us, but do you think? Do you think you might be teaching us something or giving us a lesson?
ROBBIE: I would never think I'm teaching anything to anybody or giving anyone a lesson in anything. Anyone who thinks they're doing it with their fiction probably just needs to take a good walk. But what I think fiction can do powerfully is to expand consciousness and to make us feel things and make us think differently. We might not know what they are, and it's not happening on a conscious level. But you walk away from a novel changed, and the more novels you read, the more infinitely changed you become. I think it's one of the greatest experiences you can have in life is to have this whole library of novels rattling around in your head. You are a slightly different person, and you have different perspectives on things. And yes, you may have learned some facts about things, but you've grown in a completely immeasurable way. I just think that's marvelous. I think fiction is important because it shapes who we become.
ASTRID: There is a fascinating section, quite close to the end of the novel when Ned is a is an older man. His two of his daughters have gone to university and they're in Hobart, and he's driven down to Hobart having dinner with them. The dinner does not go as Ned plans, his daughters are very well represented as university students, and they are questioning their Dad about Stolen Land and living on the land and confronting Ned with things that we know as the reader he hasn't thought about. I wanted to ask you about that section. And as a secondary question, you know, how you as a White Australian, as a Settler, write the land?
ROBBIE: Yeah, I think throughout the novel, if anyone's read it, it becomes clear that Ned is a decent person. He's honest, he tries hard, he does the right thing. He always tries to be a good person. But look, as with many, many White Australians, myself included, there's this gaping moral hole in his life, which is how someone like him has come to live where he lives and own the land that he owns.
It's not something that he ever considers because it's not right up in the mix of his life. He's not personally dealing with it at any level, he doesn't ever think about it that much. He's aware of what happened to the Aboriginal people in Tasmania, he's educated himself a little bit on it. I wanted to be very careful here that I didn't create a character who was not representative of how people thought and behaved in the 1940s. But it was important to me that he is confronted with that aspect of his life, how he came to be that, and he's never thought about it because he's never taken responsibility for it, because he has that view – I'm sure many people here know people like this, I grew up surrounded by them. I still know many people who say, 'Well, I didn't do anything. I didn't kill anybody. I didn't participate in any massacres. I wasn't there during the extremely government sanctioned attempted genocide in what we call Tasmania. That's all the past'. Of course, it's not the past, we're still living in it.
It was important to me that Ned is confronted with this in this novel because there's no getting away from it. There's no way forward as a nation if we don't talk about it. It was important to me that was in the novel because that's life. That's real. His daughters are very annoying about it, they are those classic university students who've gone to two lectures and suddenly they know everything. I'm intimately acquainted with those people because I was one of them. Sometimes think about how I behaved when I was 19 and I'd gone to one semester of philosophy. I'm surprised anyone talks to me. But it was also an important part of that that there is no moral closure. For Ned, he's annoyed. They've confronted him about it, but it starts to dawn on him that they might be right. e doesn't get away with it. We don't see him come looping back and realizing and doing anything great, because most people don't do anything great. But it was important to me that it just sits within the book, that it sits within the context of his life. This is something that he is. His failure, and he's failed the people around him. While he is, I think, decent, that's important for today in the book, because that is how many people live their lives.
ASTRID: What have been the responses you get from readers, noting that this book came out last year, so I imagine you've received quite a bit of feedback.
ROBBIE: Yeah, there's a lady at Clarence Point who's really mad I haven't written back to her letter yet. At a festival last weekend, somehow she had a friend who came up and said, 'You haven't written back to Karen's letter'. I'm sorry, I've got a baby. I'll get to it soon. But that particular scene has gotten lots of heat, as we were discussing earlier. It's amazing how different it has been. I've had quite a lot of people who are my mother's age, early 60s and around that, come up and say, 'All his daughters were horrible. How dare they confront him? He's such a good man. They don't know anything'. Wuite annoyed and I'm thinking, 'Did you read the book?' But then I've had quite a few younger people, because a few people at University of Tasmania have read the book, say, 'We were relieved when that scene occurred, because you'd been skipping through a novel about very focused on the environment and nature and landscape of Tasmania without even confronting the issue of the people who lived there for 80,000 years'. It completely divided along age lines, which had been quite astonishing, really. I'm not at all upset with the reactions, but it's just fascinating.
ASTRID: Robbie, a second part of my question that was not very eloquent. I'm going to push you a little bit more. As you know, getting published, sitting down to write, walking around with the ideas bubbling around in your head. How do you think of yourself and the power of your words on the page in relation to your status as a White writer living in Tasmania, writing about the land?
ROBBIE: Look, I try not to think about myself at all, if I can help it, because it doesn't get me anywhere. I'm not very interesting. But in my status as a writer – I'm not just dodging – I do feel quite a strong responsibility to tell the stories of the nation where we live, maybe as strangely or as imaginatively as I can, and I do in a way that improves our country. I know that sounds weird for a novelist to say, because I just make shit up. But there is a role in pretty much everything we do as citizens and as people, how we treat each other the responsibilities we have to each other.
I look at myself as a White, I think maybe sixth generation, Tasmanian, I don't know convict, essentially. As someone who is benefiting heavily from the horrors of Colonialism, is continuing to benefit from Colonialism in a way that I'm not particularly comfortable with, yet my life is very comfortable. I do feel a responsibility to tell these stories, and to try and uplift, a country that has been wounded and broken.
Vote yes!
ASTRID: Oh, Robbie. Thank you. Robbie is wonderful. I would really like to encourage you all to ask him a question yourself. So please, if you want, it's quite a large auditorium, please come down and ask! I'm going to keep asking all the questions, but I really encourage you to come and join Robbie yourself.
ROBBIE: I have quite thick skin too, if anyone wants to just… I worked in advertising for years, and people treat you like shit all day. I'm fine.
ASTRID: Also, if you are one of the people who didn't like that scene in the end of the book, please come and tell Robbie. While we are waiting for anyone to come down. Robbie, your work has been described as eco-fiction. And it clearly is. I often find myself thinking about the term eco-fiction, and sometimes I think about it in terms of about the environment, environmental fiction and climate fiction. I guess I was wondering how you yourself conceive of that label or those labels.
ROBBIE: Again, I don't think about it that much, just purely because I don't think it helps my work. In writing, if I think I'm writing in a particular genre or style or trend, then it doesn't achieve anything for my working and writing. I'm perfectly fine with this idea of eco-fiction, but I can't think too heavily about a moral message I'm putting into my work while I'm doing it.
I just talked about the responsibilities of an author. But when the actual crafting and creating a book, I'm very wary of doing that, and then ending up writing propaganda that people can pat themselves on the back about and people who already agree with me will continue agreeing with me, but the book lacks emotion because it's focusing on delivering a message. I don't think novels work well when they do that. It'd be great if they did, because it makes everything a lot easier. But novels work well when they rattle around inside you and they affect you emotionally, they surprise you and upset you. They don't work when they shout a message that you either hate or don't like or love. I wish they did. But I don't think I they work like that. I try and avoid thinking about any of it because it would impede writing anything decent.
ASTRID: I'm going to ask you a question now purely for my own personal benefit. I just moved from Melbourne to regional Victoria because I have quite a decent case of climate anxiety or ego grief, and this is partly how I am dealing with it. I wanted to ask, how does the act of writing – even if you write stuff that we never see – How does that sit with your own emotions about the state of the world?
ROBBIE: It's very upsetting a lot of the time because the world is often burning around us. Is anyone else terrified about this summer after a couple of wet ones? I started getting anxious about it. It is really upsetting and worrying, and the instinct… the thing it makes me want to do is write more about climate change in my fiction, make it obvious, get it in there, make people concerned. But I think people who read my books already are concerned. I think people who read fiction are good people who know these things. I don't want to start harangue them about it. I want to think about the emotional and write about the emotionally effective parts of it.
When I was writing my second novel there were these dry lightning strikes happening all around Central and Western Tasmania. Even in Hobart we could see the in the sky, all lightning no rain. They didn't... I don't know how well this was covered on the mainland. I find it funny when we say the mainland, but we do. Lightning hitting these peat bogs out in the Tasmanian Central Highlands, burning trees that are thousands and thousands of years old, peat fires burning underground that perhaps are still are burning, button grass that takes hundreds of years to even repair itself if you tread on it. And the narrative coming out of it was, 'Well, the Australian bush evolved to burn eucalyptus. They come back'. We'd spend time up there surrounded by these pencil pines that will not come back. It's very hard to avoid when you're thinking and writing about.
ASTRID: Thank you. Robbie, you have your first question from the audience. Hello.
AUDIENCE QUESTION: Hello, my name is Jackie. Hi, Robbie. I wanted to ask I suppose about the writing to the land and the environment over the trajectory of your three books. I read The Rain Heron first, then went back and read Flames and then read Limberlost. I guess Flames was very explicitly in Tasmania, with this quite fantastical set of threads running through it. Then The Rain Heron, it still had a very strong sense of place, but it wasn't explicit where it was, it was places but not tied down in the same way. And then obviously Limberlost has come back to being so strongly about place, but in a less explicitly mythical sense. How deliberate and conscious was that trajectory? Or what did you learn writing each book that perhaps tipped you? Or was it just completely you know, how the Muse bubbles up in each case?
ROBBIE: Thank you very much. It was quite explicit and deliberate, I suppose. To be honest, I'd written my first book set in all different parts of Tasmania, but it never used the word Tasmania. I was very conscious while I was writing my second book that I didn't want to write another novel so heavily about Tasmania, because I was worried people would go, 'Well, that's all he can do'. It was probably a bit of a career move, to be honest. Then people said it was set in Tasmania anyway. That was fine with me. But then with the third book, you know, it is very exclusively set in country where my family had grown up and lived for a couple of generations. I guess what I focus on is what best suits the story, and that is in terms of both the place and whether I name it, whether it feels like it needs to be a certain place, or it could be somewhere else, whether that's fitting and suiting the story. And the same is true for the mythical or supernatural elements that are present in my first two books. I didn't deliberately put them in or leave them out of any of the books, it's just what the story needed to me. My third novel, I just thought it didn't need it. I didn't put it in there but wasn't thinking, 'Well, now I'm going to write like this'. I figured the story out, I figured the place out, then I thought it doesn't need some of the things I did in the first two.
ASTRID: We have another question on this side.
AUDIENCE QUESTION: Hi, thanks. You write so amazingly about male vulnerability. And, you know, it's very rare in male writers to do that. I don't know how you do that without being sentimental? And if I could dare a second question, a big debate and book club that I mean, was at the end where the boat was destroyed, and whether that was too violent, or, and just the loss of the boat would have been enough, or whether the distraction of it added to his kind of sense of loss in later years.
ROBBIE: Yeah, thank you. I'll try and do it one by one. Thank you very much. I really focused on writing about male vulnerability because I think everybody is vulnerable. When I approach a male character, I want to focus on everything about them as makes them a person, even though I have invented them. And vulnerability is an inescapable part of life. You mentioned sentimentality. That is my great fear that I write things that become sentimental. The way I try and avoid that is by taking the sharpest, clearest angle I can on how someone feels and what's made them feel like that, doing away with any overt descriptive language around how they feel. I don't really like to go into heaps and heaps of detail about someone's internal monologue about their emotions, because I think that can often lead to sentimentality because when we are feeling very emotional, we don't have a monologue, we aren't thinking, 'Oh, no, I'm so distressed, I can't breathe'. We are almost a seeing flashes of color. I like to write about what people are doing when they're experiencing something. I'm not particularly concerned with the vulnerabilities.
What I tried to do with the boat, that boat was always going to be destroyed, the minute I conceived of it, it was it was already shattered. I never try to save a plot points as a way to do something to a character, because again, that's not how life works. The world doesn't revolve around doing things for us to put us on a path, shit just happens to us and then we find a way to deal with it. This awful thing happening to Ned… it was always going to happen to that boat because I thought about the boat as a character in and of itself rather than a tool to manipulate Ned. I don't know if that makes sense, but it's how I conceived of it.
ASTRID: I think it's chilling that the boat was always shattered. We have another question over here.
AUDIENCE QUESTION: Hi, Robbie. I've really enjoyed your books. I just want to ask about your literary influences. I feel like reading them I get a sense of a bit of Tim Winton, I love the way he writes Australian landscape, and also a little bit of Richard Flanagan. It might be something in the Tasmanian water there, but I wonder if you could talk about your influences?
ROBBIE: Thank you. Thank you for those wonderful compliments. By the way, I'm a big fan of both those authors. Richard is one of my favorite authors and he has had a profound influence on me and my writing, particularly, but my favorite book of his Gould's Book of Fish, which exploded the world of fiction to me, because he wrote about Tasmania in a way that was counterfactual to history in this beautiful, interesting, bizarre way. I love that book.
Another I always keep returning to is Annie Proulx. I don't know if many of you have read any previous work. She wrote the Shipping News, and perhaps more famously, the short story that became Brokeback Mountain. She writes about the land and people in ways that just constantly floor me and astonish me. I keep returning particularly to a collection called Close Range. I'd recommend that to anyone. I think she's brilliant.
And look, another writer I really love is an American writer called Tobias Wolff. He writes so sparingly but so beautifully about people. He has this short novel called Old School, which is just about some kids in a privileged school living in a boarding house desperate to become writers, and then it's rumored that Ernest Hemingway is coming to visit it. This sounds really cliched and lame, but it's just such a beautiful book.
ASTRID: We are coming to the end of the session. If you do have a question for Robbie, please come down now. My final question to you, Robbie. I have noticed, I did some simple math, and you publish a book every two years. That makes me want to know if there's another book on the way?
ROBBIE: Yeah, I realized I was doing that every two years. People are going to pick up on it. Like, he'd better keep writing. Having a beautiful daughter didn't really help. I am working on something new. I haven't signed a contract for yet or anything.
ASTRID: I have confidence someone is going to give you a contract!
ROBBIE: I'm working on another book. I'm always hesitant to talk about it.
ASTRID: That's okay. I wanted to know more that something was in the pipeline rather than details that you aren't ready to share.
ROBBIE: Yes, I'm, I'm willing to another book. Hopefully someone publishes it.
ASTRID: Good. And you have a final question over here.
AUDIENCE QUESTION: G'day, Robbie. I was just wondering if you could share some thoughts about the future of writing in the context of AI. I've been reading articles about how some businesses are just cutting, you know, three or four copywriters and replacing them with one person that edits whatever ChatGPT spits out, and the screenwriters are on strike in America. If you could share some thoughts about where the industry is going and how young people can still make a living being creative…
ASTRID: You went for the big question.
ROBBIE: Reasonably concerned, but I'm not worried how it would affect the sort of books I write because I don't… not that I'm so great that a computer couldn't do it, but it just couldn't have the same emotional responses to things that a person can have. It can only recreate what it's trawled through the Internet for, so the idea of that horrible word, content, people who write content I guess…Yeah. Like lots of copywriters, everyone's terrified except the good ones aren't because no one can come up with ideas like they can. But people who do corporate writing are worried, and they probably have good reason to be. It's terrible because it's a good strong profession, and people should be paid properly for it. But the idea of the people running the company caring about that, I'm not worried about that, because I never trusted those fuckers to begin with. And you can't trust them. They're always going to try and screw you over. So that middle level of writing is what I'm worried about, but in terms of novels, and what novels do for the world, I remain extremely hopeful and wildly skeptical of a machine. A machine couldn't write the Shipping News.
ASTRID: Can we have a round of applause for Robbie Arnott?