Melina Marchetta is one of Australia's best-loved novelists. Her most famous work is the multi-award winning Looking For Alibrandi, which was released as a feature film adapted by Melina herself.
Melina has published eight other novels, including Saving Francesca and On the Jellicoe Road. In 2011, her novel The Piper's Son was longlisted for the Miles Franklin Award and shortlisted for the Prime Minister's Literary Award.
She has also written a fantasy trilogy, The Lumatere Chronicles, as well as crime novel, Tell the Truth, Shame the Devil.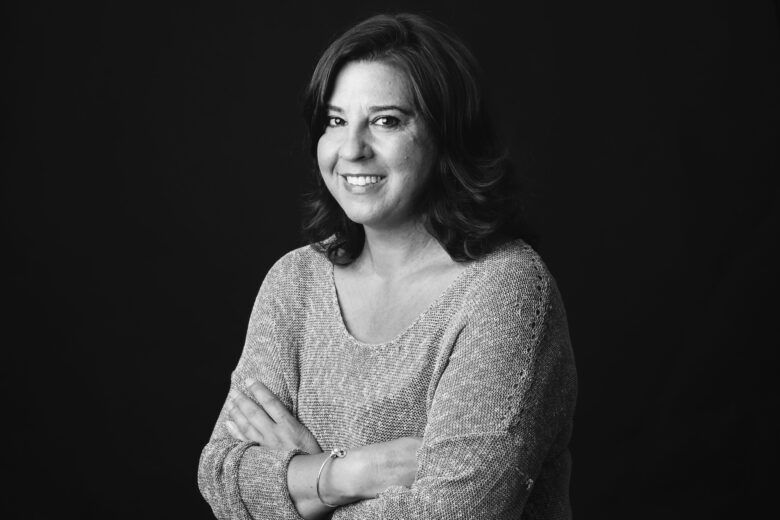 TRANSCRIPT
ASTRID: Melina Marchetta is one of Australia's most loved authors. So many young adults, including myself, grew up reading her works. She will always be associated with her first work – 1993's Looking for Alibrandi – which is still in print, has appeared on the curriculum and Melina herself adapted for the screen. She's also written works for children, a YA fantasy trilogy and fiction for adults. Her works are both commercial and literary successes and she even has a long listing for the Miles Franklin Literary Award under her belt. Welcome to the Garret. Or, should I say, welcome to your home Melina.
MELINA: We'll call it a little garret.
ASTRID: Now I think I was one of your first readers. Looking for Alibrandi was published in 1993 and if my memory serves me correct I studied it at school in 1994, when I was in year eight, and my friends and I used to talk about it in the playground and it meant so much to us. Now I know that you have been asked this many times but Josie, Josie Alibrandi, is only about four years older than I am. Would you ever write a sequel?
MELINA: No I wouldn't, because I feel as if with that particular book, at that time, I didn't know what I was doing even though it was edited for so long. But in another way I think that if I did, I'd said her grandmother would have died and I've lost all my grandparents and I don't think I'd want to go down that path. There's a part of me that believes that I used Josie as sort of a Mia – who is Francesca's mum in Saving Francesca – someone who's very passionate, smart, ambitious and I think it's interesting that someone like that has a very complacent child. But, in saying that I don't think I'd ever do anything as a novel but I get asked quite often with regards to television if I would continue her and if someone came to me with the right big dream, I wouldn't say no. But I've said no quite a lot.
ASTRID: And would you want to write the script, because of course you did the adaptation for Looking for Alibrandi.
MELINA: Definitely. I suppose when it comes to television you'd be part of a writing room – that's the term. I'd want to be part of that experience because I have done it before. I've written a bit of television, you know I have written scripts, so I'd want to know why not me because I'd say that I could bring something to it. But I'd have to make sure that I could bring something to it. And you know I think of my fantasy novels, I don't think I could write the scripts to those. That to me would be a different sort of writing.
ASTRID: Can you explain why?
MELINA: I think that I found the world-building hard enough in writing the Lumatere Chronicles and I do want to write another one but I just feel as if on a visual and a cinematic way I don't think I could bring it to life because I think it'd have to be so visual. And what I think I do well is I write characters, relationships, really well and that aspect of it would definitely work but I would think that a lot of a fantasy novel would be about the visuals and the power of those visuals. So I'd love to work with someone with it but I don't think I would say 'Well why not me?' but with everything else I can't see any reason why I would not be in the writing room of any of my other projects.
ASTRID: Is there anyone that you would like to take to the screen?
MELINA: Well at the moment kind of everything… it's happened in the last couple of days, if not weeks I would say, Saving Francesca there's a script out there. We just got Screen Australia money to have another go of it with the director on board.
ASTRID: Congratulations!
MELINA: Yes. So we have to get together in August and get that to the place we want it to be to take it to market. So it's just a bit of a step away, but one of the things that comes up with anyone reading the script: they love it but they feel as if the relationship between Francesca and her mother needs to be on the page a lot more. So sometimes it's just an area that you're going to focus on. And then there's On the Jellicoe Road, it has always been there. There's a script out there for that and one of the things that have come up just recently is there could be interest in it if we were thinking of maybe converting it to a television show, a six or seven part – no six or eight parts. I would say in a second that was meant to be in eight episodes because to make that – and we did write a script and I love it – but so much of it had to go because it's only 90 minutes or 110 minutes. So there's that and then Tell the Truth, Shame the Devil just got optioned and what will happen with that – and it's a pretty big company who has it – they will go and try to connect with a UK production company and it'll be a co-production. And just recently Dalhousie—
ASTRID: Your latest.
MELINA: Dalhousie was optioned and I was very… it's so soon but I chose someone who I've worked with, who I love, and we really feel as if we focus on an aspect of that novel – not necessarily the whole novel – but one of the things in that novel that I love and I think would be perfect for television is this netball team of women of a particular age plus their step-offspring and offspring and I think if everything revolves around those women I think that we could make something special. So it's just kind of one of those times where I think 'Oh my goodness I could end up working on quite a few things at the same time.'
ASTRID: This is a lovely spot for anyone to be in, especially writers. Now The Garret is a podcast for writers, many of whom I'm sure would love to have the writing career and the literary success that you have Milena. When you are thinking about reimagining your own stories, as you know TV shows or movies and writing them, how do you go about that? How do you change a novel into a script?
MELINA: The very first thing is always in collaboration. I would never be arrogant enough to believe or say 'This is my vision' or 'If nothing's broken don't try to fix it'. Of course you have to break a novel to make a film or television script. So any fear I have is eased by two things: one is being with the right people. I am very careful about working with the right people. They could be people I know who I've worked with before who have an incredible love for the novel. I don't think that's a prerequisite, but it helps because so many times you can be in a situation where someone is still saying 'I don't get what this story is about' – which sort of happened with On the Jellicoe Road – so it's about finding the right team and then what happens with film and television is it begins with just you and the producer. So for example I'll give you an example of Dalhousie because it's just happening now.
ASTRID: It's only just been published.
MELINA: It's only just been published but we got two offers and I kept saying 'I'm not in a rush, I'm not in a rush' because I still have to think of it as a novel. But because I was always speaking to this friend of mine who's a producer, who's done quite a lot and we spoke about this idea – my daughter's adopted, she came from the foster care system, she has stepchildren, we both are connected with netball – so we talk about these things of what we'd love to do one day and there it all was in it in a novel. Then you find out that a network like the ABC is looking for multigenerational, diverse, all these things, and we think 'it could fit in there'. So we start with a synopsis – I start with a one line synopsis and then I write a one page synopsis, not of the novel but of what I imagine the story, the visual story being about, and then what we'll do next week is we will do a really brief episode breakdown and maybe a brief character breakdown together. We're spending a whole day together to do that. And then if we get funding for it or the go ahead there's enough money to get a room of writers together, not to write it but to plot it, and from there that's when you start writing an episode or a scene breakdown. And I'm a very lazy person when it comes to things like that but the novels that I've adapted where I haven't started with a process have taken me so much longer to understand the guts of it. Whereas when I start with a very tedious, but when I start with a 20 page treatment and then I write a scene breakdown, by the time I write the script it's a cinch because you have fleshed out everything. So it's kind of like being in therapy with that world and then going off and write it, whereas I personally could not write it cold.
ASTRID: Now is that different to how you approach your fiction work?
MELINA: Oh yeah. Fiction is totally indulgent, it's all about me me me. All about me. No structure. I just do first draft, do whatever I want to do. Angst a lot – first draft brings me a lot of angst I'd say – because I know how it begins, I know how it ends, I don't know how to get there. I don't set aside particular hours in a day. I love writing in the morning, for example I might go to the library and write, but I don't really like writing in the afternoon and I think 'What a waste of time' and then I want to write at night and that's when my daughter you know probably needs the most attention but I'll wait until she goes to sleep. But it's all over the place and you can go places in a book that don't rely on that awful word budget, so you don't have to worry about a budget, you don't have to worry about casting, it's really everything you want it to be. You can have characters who go overseas, you can have really big scenes where you don't have to worry about 'Is this possible?' and there's a freedom to it that I love. So I find with first draft I just I write out a sequence. I am not one of those people who need to get the first chapter perfect before I go to second chapter. If I don't know what's happening, I will go to a part of the story where I do know what's happening, and that's how my first draft comes out. I try not to self-edit myself at that point cause I know that that is my way of avoiding the writing of the story. So it's just, it's almost like I'm saying to myself you know you're wasting time just for the sake of it so just keep on writing and that's how I finished first draft.
ASTRID: So what do you mean by you try not to self edit?
MELINA: Well I try not to not really perfect a scene before I get to the next one. I just try… and it's not a scaffolding of a scene but I just try to get it out the way in sequence I want it to be because I know I'm going to go back and I'll go back a thousand times to perfect it. But for me a first draft is not the time to do it. And I feel as if I try to do, I am avoiding what I'm frightened of – and that is I don't know where this story is going – so I just push myself to get to the end so that I can start again and really enjoy it.
ASTRID: You are a very accomplished writer – nine published books if if I'm correct. Have you got unfinished manuscripts or ideas that you didn't quite kind of find the ending, find your way there?
MELINA: No but I think that there are stories or there are scenes in my head that never made it into novels. The only unpublished [novel] I had for a really long time was a version of On the Jellicoe Road. I wrote that probably in the 90s and it didn't work. I wrote it actually before Saving Francesca and I was told to put it away. And I think it just frightened even anyone who read it because they thought this is so different to Alibrandi we cannot have something this different. And so I just put it away and I wrote Francesca 11 years later and then I don't know what made me do it. I think I read a book, I read – there were a few reasons why I did – but I remember reading the book Holes which was a teenage book. I think there was a film out. Someone had told me about it, that it was their favourite book and I remember saying – in actual fact it was Marco Souza – I remember saying to him 'Why? What is it about?' and he said 'It's just about, it seems if it's just about digging holes but it's not.' And I went to read it and it was totally out of sequence and you'd… It was totally out of sequence to a certain degree but you'd read a story in the first chapter about something that happened 100 years ago and there was a point in the story where you start working at how things coming together. And I remember thinking that's how I can write Jellicoe. So I went back to a manuscript that I hadn't engaged with for about I'd say 12 years and that became On the Jellicoe Road. So that's probably the only time that's happened but as I said, there are scenes that I really wanted to write or sentiments that are somewhere in my head that will make it someday in another piece of work.
ASTRID: So you just described going back to your own manuscript about 12 years later. What is it like for you to read those unpublished words written by you? How do you figure out if the words are worth saving or it's just the idea and you start again?
MELINA: A bit of both but mostly a bit of the idea, and it's difficult because you can sometimes love a centre, probably more as sentiment, but find a different way of conveying that. But I always use what I've got there and it's almost like you're shuffling it around. I remember in the first draft of On the Jellicoe Road – which is about a girl who, you know, she gets when she's 11 she gets left behind in the middle of nowhere, pretty much at a 7-Eleven and grows up in a boarding school and there's a little territory war and you think it's just about a territory of war but really she discovers a story of these kids from the past and how she's connected to them. So that is what that novel's about. When I first wrote it the kids in the past weren't there. It's about her friendship with a boy who goes missing but they met in the same car accident when they were kids and that's why they're so connected and there's still a bit of a territory war but it's within the boarding school. So when I went back to it I thought expand it, take it outside the boarding school so the territory was with the townies and some visiting cadets. But more than anything that boy she met in the car accident belonged to the past and he meets a bunch of characters in a car accident. So it's almost like you've got all the ingredients but you're placing them in a different pot to tell a different story. But the one thing that survived in that story was her name was Taylor Markham and she went to this boarding school. So I hold on to things that, to me, are probably the more powerful things and I do think that Taylor as a character was a very powerful character to hold on to. So it doesn't move that far away from it but I'm not cutting and pasting. I am having to really start from scratch.
ASTRID: Now you've also been a teacher – secondary school I believe – English and Italian. What did you learn if anything from interacting with students and working with words across languages?
MELINA: Well first of all, Italian teachers shouldn't be Italian teachers just because they have an Italian surname which in my case. But in saying that because I was an English and History teacher, but because I had an Italian surname and you have to, in schools you have to do I think 100 hours of a language. So it's like well it's only year 8 why don't you? And I had to follow this book, the Avanti book, but it was great because of the… I can understand so much why Latin is taught because I think that if you know Latin or if you know Italian, you'd finding English a lot easier because of all the conjugating of verbs and things like that. So it certainly helped my Italian to a certain degree. But it was just, for me what I got the most out of say English teaching and being an a student of English literature, is just that deconstruction of a text which I love. And I actually miss that the most I miss pulling apart pieces of work and talking about it and you could easily do that in a book club, but I can't join a book club really because I don't want to be critical of someone else's work. I would be horrified if I said that I didn't like someone's work or I criticised it and it ended up on Twitter or something like that. So I can't really belong to a book club which makes me a bit sad.
ASTRID: Can we just explore that? You know you're a public figure and a very very well-known Australian writer so I can understand why you wouldn't want to ever you know have someone take a comment and put it on Twitter. But do you not think that there is still a space for Australian authors to – not criticize in a harsh way – but actively engage in a text and like bits and not like other bits from.
MELINA: Totally. But I couldn't do it to an Australian one because you're sitting there on the same panel with them at a writers festival. And I think it would hurt me if I knew, of course I know that people haven't liked my work but we have got such sensitive souls. So I do believe so much that there is a place for you know analysis and especially you know there's a difference between a negative review and a critical review. But I'd have to find a way of saying it in a way where it's still not saying anything negative about a book. I mean so many times I actually don't like a book and I just don't want to say that and that's what I think that I would do. You know you're at a book club, you get a glass of wine. So I keep away from that – tonight I'm speaking at a very local book club and that'll be nice because I'm speaking about my work and I feel as if book clubs have really gone through the roof again which I think is great. I remember there was a period where people were passionate about book clubs, then they went away and now they're back. And I love that. So I only say yes to very local ones. But I love that because I know some of the people involved but I am very careful about what I say about other Australian writers. That's just me though.
ASTRID: Do you think that that's reflection on the Australian literary and publishing scene, or do you think that the same thing is found in other countries?
MELINA: I think the Australian one is too small and the chances of you bumping into someone who you've been critical of is just you know at every festival. It's just… Whereas in the States it'd be, I'm not saying it would be rare but it's just too big there's too many festivals there to think oh my goodness I'm going to be bumping into this person and I know that they were especially from when I was writing YA there was this big criticism of you know books like Twilight and a whole lot of other ones. It'd be easy, I think it's easier to be critical of something when it almost doesn't belong to the writer anymore.
It's just – you're not even being critical of the writing, you're being critical of the way people have received it or have gone crazy about it. But for me as a as a writer I'm not saying that I feel as if I should support other writers but I know how it feels and I always reading sometimes a bad review of your work is sometimes scathing and personal. I sometimes want to say – you never say this but you write these things in your head – how would you feel if I went into your workplace and said 'Pretty shabby work here. Bit predictable you know the way you've…' So I'm very much aware that I don't like it so why would I do it. So it's quite rare that I will have a whinge. I'll have a whinge with maybe one other person and go on and on and what the big fuss is about but yeah.
ASTRID: So what do you think of book reviews, I mean do they drive sales what do they mean for an author of anything?
MELINA: You know I— and I know that I will cause I've had a few reviews but the two major papers haven't yet and I'm – and I know that they probably will happen and I'm just waiting. But when you're trying to get a book published overseas it's the reviews that you need. And so I'm waiting for that, for those reviews, to be able to send to my agent and say this is the reviews. So they're important. I think for setting up a deal or a contract, of course they— It just depends on the type of person reading reviews. I will read a review – and I try not to read a lot of reviews – it's not the review that turns me off the book, it's the synopsis. So I know – and sometimes you can read a review and think wow that's a personal reaction to it. But for me if the synopsis really interests me, I'll go for it. I rarely get turned off by a review unless it's just you know 'Don't bother to pick this up' and explain why and I think that's everything I hate you know. So I can't imagine picking it up.
ASTRID: I'd like to talk about all of your work including your move from writing YA and for younger readers to more contemporary fiction. But just before we leave YA behind Looking for Alibrandi was kind of one of the first YA novels although we didn't call it YA in the sense that we do now back then. It was also a novel that you know looks at the migrant experience, the second generation migrant experience. I've had the pleasure of entering interviewing Yassmin Abdel-Magied recently who of course wrote You must be Layla. That's a beautiful book doing the same kind of thing but almost 30 years later. What writers do you… what is Australian YA writing like now, and who do you think is doing it well?
MELINA: I think a lot of people are doing it well. I love the reception, especially at one stage in the US. We were actually in the world, we were having – because I think we're not as worried about things getting banned or being unacceptable and I think the wonderful thing as well and especially YA in the last 10 or 20 years it's our voice. You know I'm really bossy with, not young writers but new writers, who are getting their work published in the US. The first thing I say to them is don't let them change a word. You do have to change a word. But what I'm saying is don't let them Americanise it because in actual fact American readers don't want it. I don't believe that American readers want it Americanised. They want that distinctive Australian voice and I knew that reaction from On the Jellicoe Road which did win an award over there, and they loved that Australian element to it, in the same way as their reading Dalhousie and The Piper's Son and Francesca and don't think 'Oh that's weird. That's from Australia.' So my thing to everyone is don't believe that you have to change it.
So I think that the voices are strong because of that. And look I just for me I grew up and I didn't read anything about my life. I loved reading but I don't remember… There are few Australian books that I remember and I do remember them. I loved Hills End which is Ivan Southall's book. I loved those sort of stories but I didn't read enough of them and so for me to know that young people are able to read something that is so familiar to them and then that added bonus of them being on the other side of the world and for people to be reading them. You know a few things have happened with some of my books overseas. One of my favourite stories is when Francesca was accepted in the US, it was about a year or two after it was published here. They asked if I could— They flew me over because no one really knew who I was over there. So they wanted me to meet booksellers and librarians. And I remember reading a passage from Saving Francesca in the New York, in Random House in New York, and someone came up to me and they said 'What a strange thing that hearing Francesca's voice in an Australian accent.' And then I went to Chicago and I told that story because I thought it was funny and someone came up and said to me 'Oh no Francesca is a Chicago girl.' And I loved it I thought this girl from the inner west, she lives in Annandale, in a small world a small world I grew up in. She's an international character so that means that any kid growing up here is big enough to belong to the big world. And I think that that's what I love about what Australian fiction has done. And I love what they find out, like even the other day with Dalhousie I read a review from an American reader that I thought was strange but I didn't realize they were marvelling that we have this thing where you get paid to stay at home if you've worked in a job long enough – which is long service leave – and also Tresillian which is where you take… you know they said they've got this place where you can go and take your baby if you're not coping. And I love the fact that we've got something to teach the rest of the world. So you know I just, I think that we've got so much to offer in a lot of ways and our big mistake is to think that we have to change our voices and change the vernacular to suit the rest of the world when it's that that they love about us.
ASTRID: You mentioned or referred to banned books before. Have any of your books ever been threatened to be banned in a different country?
MELINA: No. No I haven't heard it. I'm sure that that books aren't studied because of sometimes the language or the sexual activity. I remember here in Australia sometimes I've heard that particular schools had banned them because of the sex and the language and of course you know people don't like them. But no, I haven't had that type of controversy. I don't think I've had a lot of controversy with my work. I don't know whether that's a good or bad thing.
ASTRID: I think it's a good thing.
MELINA: I'd like to challenge someone on what they have an issue with but no I think I've always had I've had a quite a respectful and a readership that has really stuck with sometimes every book and I felt that in the last couple of weeks going on the road with this novel, but receiving letters and in the same day where someone was explaining to me from here how they felt about this family of this world that I had created with Francesca, The Piper's Son and Dalhousie that it was almost like coming home. I got the same sort of letter from Sofia in Bulgaria someone, you know, from there and I think wow that's they're two different worlds and it's just lovely to think that the universal need of a reader is kind of it's the same. It's not about sometimes what the book is about, it's sometimes about the solace that is provided you know through words.
ASTRID: Those three works that you just mentioned, they're often referred to as kind of your loose inner west trilogy.
MELINA: I referred in my head because they're companion novels and obviously not trilogies, but I refer to them in my head as my inner west trilogy or my love song to the inner west because I just I love the inner west but also – and I'm not saying this is with every book – but we write so beautifully about the bush and about country life and I don't feel as if we bring our cities and suburbs to life in the way that say the Americans or the English or anyone else does. It's almost like it's an embarrassment you know and that's one thing I learnt from Looking for Alibrandi. People said it was so confrontational to see the word Glebe you know or Leichhardt in that book. But I loved that because it gives us a sense of— it gives me a sense of place. And for me the inner west is unique, it's beautiful and it's where I've chosen to bring up my child and I want to share that with the world.
ASTRID: This is actually something I wanted to talk to you about Melina. So I now live in Melbourne, I've been there for eight years, but I grew up in the inner west. I spent 30 years here in Leichhardt, in Glebe, in Balmain, in Annandale. This is my home. I flew up this morning and it just feels good to be back in this part of the world. But in addition to you, as a writer, being so well known in terms of creating character and creating relationships I feel as a reader, you create place. You make me feel like I am back in the inner west wherever I am in the world and the only other writer who does that for me is Michelle de Kretser.
MELINA: Oh wow.
ASTRID: So how do you do it?
MELINA: Oh look you know sometimes I think it's… this is a strange thing to say but sometimes I think it's because I don't know how to write.
ASTRID: I disagree with that.
MELINA: So I write about really what's around me. I don't know but I have a deep love for this area and I think for me it's because I did you know at the end of the day I am the child or the grandchild of a migrant. And there's a lot of times in your life where you don't feel as if you belong. So once you discover where you belong it's, there's just beauty every day and there's realness every day. So for me of course when you write about a place, what makes it memorable is the people in the place and without sounding negative they're very ordinary people. And I've said this so many times in the last couple of weeks I have the most profound conversations in the aisles of my local supermarket. I haven't seen someone for a long time or even for six months. And in those five minutes we are telling each other the most profound things that are happening in our life, because we haven't got time and they're the real people in my world. Or else other times you know I was at netball training with my daughter's netball training on a Tuesday night and one of the mums was telling us about the breakup of her marriage and I already knew about it. And one of the other mums was crying hearing it, and so there we are having the most intense supportive conversation and our kids are having great fun and we're waving to them, everything's fine. And I just think that's life and that's what I try to capture when I'm writing about these very ordinary people. But our lives are extraordinary, our emotions are so extraordinary. And I just think that what I've tried to always do is to bring the drama in the everyday without having to, I don't know, without having to create too much of the stereotypical drama. I don't know if anyone's ever noticed but I very rarely have a love triangle I can say that – I think I kind of had one in Alibrandi – but I rarely have infidelity as a reason to create conflict. I'm not saying it you know it's not a great tool. It is. But I think it's a bit lazy as well. So I think concentrate on another way to create conflict. So I'm always trying to do that rather than 'Oh it'd be really interesting if she's having an affair with that person.' Well what about if someone's conflict within their marriage is about something completely different? What if it's about disappointment or choices that they made 20 years ago that they regret or things like that. So that's what I'm constantly trying to do. And it is in respect or with respect to the everyday around me because that's where I find the greatest pleasure. Like even this morning a cousin of mine is very very ill and just you know a few of us decided let's go over. We go over often but not probably as a pack. But we weren't talking about the illness we were just talking about a thousand other things. But I know that the warmth in that room was probably a comfort to her. So it's just the everyday.
ASTRID: So when you are writing the everyday that you love and that you experience how do you know when it works or it doesn't on the page?
MELINA: I don't I don't I don't. I always say this – I at the very same time, I don't feel more for one or more for the other – I am torn between believing I'm a total failure and a total genius at the very same time. And so for me, the first two readers of my work and that's usually my agent obviously my editor, maybe someone else, I wait for that response. And I think I'm good at reading between the lines. And if that, if it comes back with a great passion it just moves me and it makes me feel so relieved. And then it makes me think 'Okay your journey has now started to write second, third, fourth draft and you're going to turn this into gold.' So given that encouragement I know that I can go places with the story that will be moving or that will make sense. So I don't know but I've done it, I think I've done it 10 times now, because I wrote a little kids book. I keep on saying to myself trust your gut instinct because there have been times where I haven't trusted it and I don't know why because it works. So I've now come to believe that really what works for me, works for a lot of my readership. So I have to just trust that.
ASTRID: So at what point do you share your writing? Is it the first draft and then you give it to your agent and your editor, or how many times do you go over the same thing before you share?
MELINA: Well we always have this discussion about what my first drafts are. I'd been told your first draft is an eighth draft but I am kind of fixing it but I will know it's still very early on and I will still call it first draft because for me the drafts change from being first to second when an editor or someone has come on board, given it or read and said 'Okay we need more of these. This needs to be fleshed out.' But it is a very polished first draft and probably one of the first people would be my agent. And it's just, she doesn't tell me what to do but and she's in the US. It's always interesting for me as well to get the point of view from someone over there and her response and she actually might pass it around her office with the other agents but her first response is always important to me. But it is a very polished first draft I wouldn't ever send— I'm allowed to. I could send something off that's got heaps of mistakes whatever but no one's going to look at that now. I would never recommend that at all for someone who's starting out but when you've been writing so much. Sometimes an agent or a publisher will say show it to me as soon as you've finished. But she's pretty much the first person and it's very nerve racking. I never think 'I'm confident about this.' I never am. I am waiting for that response and I don't understand how she can knock it back to me in 24 hours. It's usually about two weeks or three weeks but you would just, you spend every day thinking this will be the day when I get the feedback.
ASTRID: Now tell me about the editing process so once you know that you're going forward and you start working with an editor. Your editor is Australian, that's correct?
MELINA: Yes.
ASTRID: How many times does a work go between you and the editor?
MELINA: For this particular novel, because for the last one Tell the to Shame the Devil, I had a US and an Australian editor. Amy, who edited Dalhousie, has edited four other novels of mine, and the interesting thing there is she belongs to the young adult department of Penguin Random House. But if there's one thing that you hope you have some kind of power – I always say I don't ask to fly business class but I do want my beloved editor because an editor is an editor it doesn't matter what department they belong to. And also she edited The Piper's Son so she just knew these characters. She was the right person for it. And so what happens is the first response is a letter from her mostly saying everything wonderful and then there'll be 'You know this is what we should be looking at' at the end so. So my next draft is based on that letter. And then what happens after that draft, is I'll send it to her and that's when she might say 'Okay I'll give an example from Dalhousie the house which is very important.' So in that next draft she would have said look that house needs to be more of a character. I need to see that house a lot more. And I'm really I find descriptive language really difficult. So it's every time I go into an edit I'll add a bit more until I'm really happy with the way it's presented including the street and things like that.
And then the next draft after that it might be more of a line edit, she might want something fleshed out. There could be, I'm writing where I'm telling too much and not showing. And I'm always angry at that because I think 'Come on you've been doing this so long and you're still doing a telling rather than a showing.' But that's the way it is. Maybe in the fourth draft, and these are really tiny drafts, I might just really concentrate on the language of a sentence. I might, if I'm writing a descriptive piece I will look at a word I will take it out, find another word in the thesaurus and make sure that that word has maybe similar sound devices so that if it's a beautiful visual scene of the trees outside or whatever – that's being really basic – but that it comes to life because of the sound devices as well. So they're all those little things. Sometimes you're told we don't understand this character enough. Can you write yourself a back story and you write yourself a back story – it could be a page long – but you might discover something yourself about that character that isn't shown in that novel. So it's usually, I won't say it's a 12 month process because sometimes there are months in between where you don't get the manuscript back, but I certainly enjoy my second, third and fourth drafts. And then of course you do the line edits.
ASTRID: And then you have to publish and market.
MELINA: Yes. The scary part. Then you have to open magazines and see your face there and think 'Oh my god I understand why I am a writer hiding in my little room.'
ASTRID: Well this does raise an interesting point. I mean you have published and talked about books for almost three decades now. You are well experienced in doing so, but if you still find it you know slightly confronting, what advice do you have for a newer author who doesn't have experience?
MELINA: I find, I've probably got a bit better at it. I just, I find because of the vanity thing I find it hard being photographed because photographs never do justice for one. And also you know that people are making a judgment and the mystique in a way, I wonder if it comes out you know if it gets taken away from the work. I always you know even with actors I don't want to know too much about them because then I can't imagine that they are that character. So for me I don't think we should talk that much. I've just come out of the last couple of weeks and said to a friend 'I am sick of talking about myself.' So it's actually good to go back into the world of being on the P&F and netball practice and all of that because it's such an indulgent world. Imagine if you are an actor or someone who's got a massive profile, really it's hard not to talk about yourself.
But what I discovered, especially in my early interviews sometimes, you would say things that not would hurt at all your family, but it was just too much information and it's out of nervousness. So sometimes I feel as if I choose my words and then I've discovered that if I choose my words while I'm being interviewed I say a lot of 'ums' and 'you knows' so there's just there's a lot going on when you're responding to a question and you know. I was at the writers festival and my sisters were in the audience and you know it was 'Don't talk fast. Don't do you know.' So was advice from them because obviously they're the ones who are going to listen to a podcast or an interview and be critical and they have every right to it because that's what we do. But I feel awkward unless I'm writing the words so if I get to write my own blog about something, you know someone will ask me can you write— I had to write about the inner west for example for the local paper and I was given the option do you want to be interviewed or do you want to write your own piece. Oh my God. That wasn't hard. It was extra work for me, but I did not care because I know that I own every one of those words. But with everything else you don't know how it's going to come across.
ASTRID: I had the pleasure of interviewing David Malouf last year and he's published 40 works – give or take – and he refers to them as his body of work, his statement on everything. Do you consider your own body of work like that?
MELINA: Definitely. I definitely do. I think that it gives you an opportunity to say what you want to say and you kind of say it behind a character. But I also think about my work that if somewhere in the future there was a university course called Melina Marchetta I think that you could link every novel with what was going on in my life, whether it was that claustrophobic world of living in an Italian community, in saving— sorry in Looking for Alibrandi to you know my friendship groups and that world in The Piper's Son and living in the inner west but also the I think the urban family you have comes through On the Jellicoe Road. All of these things I feel as if there is a reflection on my life, even something like Tell the Truth, Shame the Devil the cop in that he – or the detective type – I didn't make him a detective, I made him a police inspector because a police inspector would be working at the police station. He'd be in charge of people rather than out on the streets. I've never been out on the streets but I've been a year co-ordinator and I've had to listen to students, parents, teachers, I've had to collaborate, I've had to make peace, I've had to listen listen listen. He solves a crime because he has that ability to listen and to have empathy and so you place so much of things you've learned in your characters and of course Dalhousie for me is probably the closest to Saving Francesca, the reflection of my real world including the fact that two of Martha's friends, Alana and Julia, have got foster children and they're going through an adoption and that was the toughest time of my life. And that was one thing that I wanted to you know put somewhere out there and it is about getting people talking about a lot of things in life. It's hard to say whether I feel a responsibility but it goes back to I own every word I speak, I write and I will take responsibility for every one of those words. So when someone is critical about any of those words, I would never apologise because I have thought it through on so many different angles. But yeah I just I think it says a lot. Our writing does say a lot about us.
ASTRID: Will you ever write an autobiography?
MELINA: No because I feel as if my life is so tedious really and it's tedious in a beautiful way. I don't want it to be. You know I've been lucky enough to be involved and I will be involved you know in the film industry and you know as a teacher and you know even being the secretary of the P&F. But at the end of the day all those worlds I even think about this in the film industry it's when you're getting together and listening to people. It's like being in one big staff room where there is always a gripe, someone's getting too much, someone's getting too little. So the most exciting thing that will happen in my day sometimes, apart from the writing and what's going on inside my head, is really going out and getting a coffee and you know not even engaging in that world but— or walking down that street to school and saying hello to everyone you know or getting my mail.
So no I just don't think I'm interesting enough and I think other people, I'm just in awe of you know what they've done but – and I don't apologise for it – but now I don't want to put someone through that.
ASTRID: Fair enough. Now I read in a recent interview that you did, that you were writing a series of chapter books for children.
MELINA: Yes.
ASTRID: That sounds fascinating. And my question about those is how do you write for a child and help them fall in love with stories and words?
MELINA: Oh my goodness. I'm finding this so hard, but in a good challenging way, because I'm so used to having thousands of words to work on. Every one of these books is probably only going to be I'm going to say fifteen hundred words and I have to remember so many things like you know they don't need to have a listen, they don't need, but there's a part of me that will always write like that. So I just have to make sure that there's something exciting enough in that story – they always say put a dog in there and put a naughty character – but for me it was so important. My daughter's a reluctant reader. So everyone says oh she must love books whatever she does but she doesn't want to read them. And I'm not going to give up on that but I also want her to be able to read something at the age of six and seven – she's seven now – where it does reflect on her life and I'm not finding a lot of that I'm finding that definitely in the picture books and in maybe older reader books but not for those six and seven year olds. And we've been in love so much with Billy Brown and books like that. But with this one and because I know the world of kids, she knows there are kids living in multigenerational households. I know quite a few people who are living with grandparents and parents and I'm a single parent so in this story she lives with her mom, she lives with her grandparents, she, you know, her cousin lives in the house behind them which is also something very inner west. And it's about a character who wants to do the right thing and just can't. But then you put something into it that is quite important and topical, but it still has to do with your life.
So for example Italians, including my mom, are obsessed with their veggie gardens so you can link something like that to the community garden that needs work at school. So you're trying to do all that in fifteen hundred words and that's hard but that will be my challenge. I'm finding this harder than writing a 90000 word novel.
ASTRID: I cannot wait to buy this book and it is going straight to my currently five year old niece who's growing up in the inner west and is a reluctant reader.
MELINA: Perfect, perfect. Well, they'll be seven of them because the first one will be called 'What Zola did on Monday', 'What Zola did on Tuesday', so it's seven days. But yeah I just I want kids to keep on reading but I certainly know that I'm a bit out of my element at the moment so I'm really relying on watching what other people do or reading what other people do in that area because wow it's scary doing things in fifteen hundred words.
ASTRID: Got to be exciting though. You're smiling!
MELINA: I know I know. I wrote well this was going back to when do I show someone. I actually cheated because it took me so long. I know exactly what this story's about but it took me so long to write the beginning I just didn't know where it started. And I sent my editor the first two paragraphs and they're big paragraphs and I sent them to her and she just said I love it. And I… That's all I needed. That's all I needed because I knew that there were other ways she could have responded but I just thought that's what I needed. And I suddenly had the confidence to think 'Of course you can do this.' But if I find everything scary but in an exciting way.
ASTRID: Melina I cannot wait to read them and buy them for my nieces. Thank you so much for your time today.
MELINA: Thanks a lot.