The shortlist for the 2018 Miles Franklin was announced on 17 June 2018 in Canberra. This episode - featuring the four shortlisted writers  who attended the awards ceremony in Canberra - was released on 21 June 2018.
This episode features interviews with Michelle de Kretser (The Life To Come), Kim Scott (Taboo), Felicity Castagna (No More Boats) and Catherine McKinnon (Storyland).
Gerard Murnane (Border District) and Eva Hornung (The Last Garden) were also shortlisted.
Michelle de Kretser
Michelle de Kretser was born in Sri Lanka and emigrated to Australia when she was 14. Educated in Melbourne and Paris, Michelle has worked as a university tutor, an editor and a book reviewer. She is the author of The Rose Grower, The Hamilton Case, which won the Commonwealth Prize (SE Asia and Pacific region) and the UK Encore Prize, and The Lost Dog, which was widely praised by writers such as AS Byatt, Hilary Mantel and William Boyd and won a swag of awards, including: the 2008 NSW Premier's Book of the Year Award and the Christina Stead Prize for Fiction, and the 2008 ALS Gold Medal. The Lost Dog was also shortlisted for the Vance Palmer Prize for Fiction, the Western Australian Premier's Australia-Asia Literary Award, the Commonwealth Writers' Prize (Asia-Pacific Region) and Orange Prize's Shadow Youth Panel. It was longlisted for the Man Booker Prize and the Orange Prize for Fiction. Her last novel, Questions of Travel, received 14 honours, including winning the 2013 Miles Franklin Literary Award.
Kim Scott
Kim Scott grew up on the South Coast of Western Australia. As a descendant of those who first created human society along that edge of ocean, he is proud to be one among those who call themselves Noongar. He began writing for publication when he became a teacher of English and has had poetry and short stories published in a number of anthologies. That Deadman Dance has won several awards, including the 2011 Miles Franklin Award and the 2011 Commonwealth Writers' Prize for Fiction – regional winner. Kim lives in Coolbellup, Western Australia, and is currently employed at the Curtin Health Innovation Research Institute, Curtin University.
Felicity Castagna
Felicity Castagna won the 2014 Prime Minister's Literary Award for Young Adult Fiction for her previous novel, The Incredible Here and Now, which was shortlisted for the Children's Book Council of Australia and NSW Premier's Literary Awards, and adapted for the stage by the National Theatre of Parramatta. Her collection of short stories, Small Indiscretions, was named an Australian Book Review Book of the Year. Castagna's work has appeared on radio and television, and she runs the storytelling series Studio Stories.
Catherine McKinnon
Award-winning playwright and novelist, Catherine McKinnon studied theatre performance and cinema at Flinders University, and worked for the Red Shed Theatre and later the State Theatre Company as a theatre director and writer. Her play Tilt was selected for the 2010 National Playwriting Festival, and As I Lay Dreaming won the 2010 Mitch Matthews Award. Her short stories, reviews and articles have appeared in Transnational Literature, Text Journal, RealTime, Narrative and Griffith Review. Most recently, McKinnon, along with four other writers, won the Griffith Review Novella 111 Award, 2015, and her novella 'Will Martin' was published by Griffith Review in October of that year. She currently lectures in Performance and Creative Writing at the University of Wollongong.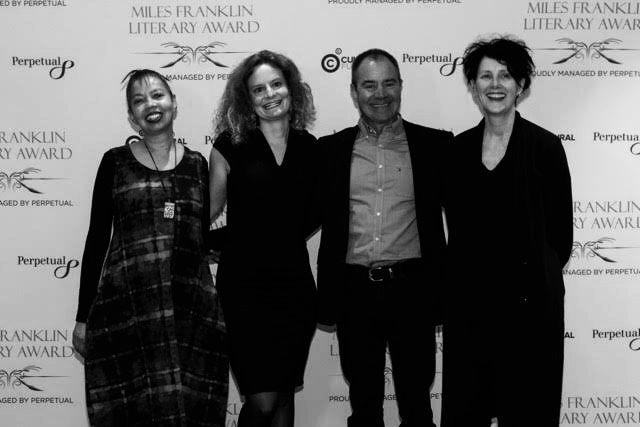 TRANSCRIPT
Astrid Edwards: This is a special episode of The Garret featuring four other writers shortlisted for the 2018 Miles Franklin. Michelle de Kretser for The Life to Come, Kim Scott for Taboo, Felicity Castagna for No More Boats, and Catherine McKinnon for Storyland. We talk to these four writers in Canberra the day after the Miles Franklin announcement. Gerald Murnane and Eva Hornung are also shortlisted for the prize for Border Districts and The Last Garden respectively. I hope you enjoy the insights these writers share as much as I did.
Astrid: Michelle de Kretser, welcome to The Garret.
Michelle: Thank you. Thank you for having me.
Astrid: Congratulations on your shortlisting for The Life to Come. And my first question. I know everybody must be asking you about the Miles Franklin, but you are no stranger to literary prizes. The Lost Dog was long-listed for the Booker Prize in 2008, and Questions of Travel received the Miles Franklin prize in 2013 and was shortlisted for The Stella Prize. What is the impact of the prizes and the public recognition on your writing?
Michelle: Oh, on my writing itself I would say almost nothing apart from the fact that it buys you time in which to write. And I think... So indirectly it affects the writing because it just makes you feel secure about having more time in which to revise your work and try to make it as good as you possibly can. But the thing about a prize is that you win it for the book you have written, it doesn't actually help you with the book you are writing in terms of technique or how to do it, really. So, it's a funny kind of... It's always the one you have written, obviously, not the one you are actually writing.
Astrid: So, do you have a work in progress now?
Michelle: Yes I do, but it's not a novel. I'm writing an essay on Shirley Hazzard for Black Inc.'s Writers on Writers series…
Astrid: Isn't that a fantastic series?
Michelle: It's wonderful. It's a wonderful idea. I just love the idea, and as a writer and a reader, it's just such a joy to be able to pay tribute to a writer who has mattered to me.
Astrid: Is she one of your favourite Australian writers?
Michelle: Absolutely. Oh yes, yes. I mean, we were given complete freedom of choice in subject matter. The only stipulation was that it had to be an Australian writer. And I wanted to write about someone whose work I'd lived with over time, and I guess it's been a bit more than 30 years since I first read Hazzard. And in that time I've reread her, of course, many times, and I write a little bit about how my feelings towards the books changed with rereading. But it's just a wonderful opportunity to pay tribute, I think.
Astrid: It's a brilliant series and I'm interested in that we've already brought up Shirley Hazzard. You actually mention Shirley Hazzard in The Life To Come…
Michelle: I do! [Laughter]
Astrid: … As well as other famous Australian authors. And what I wanted to talk to you about in The Life to Come, it's a complex work. Personally as someone who grew up in the Inner West of Sydney and who enrolled as a student in Paris, I found your descriptions of place beautiful and yet startling in their accuracy.
For this interview, I'm interested in the critique you make of the Australian literary scene in some ways in The Life to Come. So for example, one of the main characters, Pippa, she's a writer, Celeste is a translator. There are other minor publishers and writers as characters. There's mention of the Sydney Writer's Festival. The fictive Centre for Australian Literature. I think a brief mention to the ABC Literature, grants, et cetera. How much of that is true, or is part of your experience?
Michelle: Well, many of those aspects of the novel are satirical and satire relies on hyperbole. So there's a core of truth I hope, it wouldn't work as satire if it were entirely invented. But it takes it to its illogical extremes. So for instance, a literary agency has a software programme called SIM, which it uses to predict reader's responses to manuscripts.
Astrid: Yes!
Michelle: I don't think that actually exists yet…
Astrid: Let's hope not.
Michelle: It may yet come. I suppose I just see that in 20 years of being a published writer, marketing, the influence of marketing, the role played by marketing departments and publishing houses has increased heaps. And that's just in those 20 years. Now I used to work in publishing and I'm not anti-marketing. You can have the best book in the world and if no one knows about it, well…
Astrid: They can't read it.
Michelle: They can't read it. So I am certainly not anti-marketing. I'm very grateful to my publishers that they market my books successfully and professionally and widely.
But I think that there is a danger when marketing responses, which are essentially commercial responses, have too large an influence on what is published as does happen in publishing houses, not just in Australia, around the world. Because marketing is essentially about the bottom line. It's about success in commercial terms, and yet literature is a long game. And a writer or a book might have very little recognition in their lifetime, and yet be read for decades and even perhaps centuries to come. And none of us knows who will win in the long run, and that's one of the wonderful things about literature. So that aspect of preoccupation with commercial success is what I was satirising in the book.
Astrid: One of your characters mentions Shirley Hazzard, and another refers to Patrick White and Christina Stead as 'the safely great and the safely dead'. I love that line. It also made me a little bit sad. What do you think of the general Australian public's engagement with Australian literature?
Michelle: I think the general Australian public engagement tends to be with the contemporary, rather than actually with 'the safely great, the safely dead'. Those people are considered passé, there have been writers of course, a Nobel Laureate, they have had their recognition and people feel they don't have to revisit their work. I feel that's a shame, and it's a very different attitude from the one that prevails in other countries where... I mean, the other Anglophone countries like the UK and the US, but also in other European or Asian countries where the classics of those cultures are revered, and are read afresh by every generation who find new meanings in them. So, I think that as a culture, as a whole, and I'm not just talking about literary culture, we are very driven by novelty.
Astrid: Yes. Have you read Christos Tsiolkas on Patrick White?
Michelle: I interviewed him about it at the Sydney Writer's Festival...
Astrid: Oh, I'm sorry! I missed that interview…
Michelle: It was the best thing I have ever done at a writer's festival. Not only because Christos just spoke so eloquently and passionately, but because we were not just talking about someone's latest novel, we were actually engaging in a talk about Patrick White, in a conversation about Patrick White. So I mean, of course Christos' book was the springboard for that conversation, but we were really exchanging our views on White and talking about another writer. And it is a joy, a joy as a writer to be able to be talking about another writer's work, rather than merely spruiking your own which is the usual pattern.
Astrid: And often required as part of the commercial imperative.
Michelle: And often required. I understand that, I understand that. But for some years I ran a series of public lectures in conjunction with Sydney Ideas at the University of Sydney where I would invite an Australian writer to give a one hour public talk on an Australian book they admired. It could be anything. And every one of those writers said to me what a relief it was to be able to just get up and talk about someone else's book rather than feeling they have to be out there sort of selling their own book. They could respond joyfully and frankly and thankfully because as writers, we come from readers. And to be able to say thank you to someone whose book has mattered to you is a great thing.
Astrid: Patrick White, did he matter to you? He was one of the original…
Michelle: Yes.
Astrid: … First winners of the Miles Franklin.
Michelle: Yes, Patrick White did, does still... I mean, White and Hazzard are very different writers, and yet not, because they share I think three things that I go back to them for. And one is the ruthlessness of their vision. They are great truth-tellers, both of them. They don't flatter, and they can sting.
Astrid: Quite harshly.
Michelle: They are implacable. The second thing is that, and this is the wonderfully thing allied to that ruthlessness is a great compassion. So they are never satirical or ironic or cruel towards those who are defenceless. Never. It's always aimed at the powerful, the deluded, the grandiose, the pompous, the oppressors rather than the oppressed. And the third thing that they have in common is the glory of their prose. And those three things are precious to me and I go back to them a lot for those reasons.
Astrid: On the second point that you mentioned there, I agree with you, literature is one way of truth-telling and speaking truth to power. The Miles Franklin is one of the largest literary prizes in Australia, and that brings a certain prominence. With that prominence, do you think that there is a role for Australian writers as cultural commentators and a space for that?
Michelle: Yes, sure. But I think a writer should always just write the book they want to write, rather than feeling that they have to fulfil a social or a political role. Because I think the moment writers start thinking about that word 'should' in terms of the content of their books it can be a very deadening effect. I think write the story that compels you. It might be a small, domestic novel, and it could be wonderful. It might be just brilliant if that is the story you want to write. If you want to write a big political novel, write the big political novel. But feeling that one has to is a mistake for a writer.
Astrid: Not good for creativity.
Michelle: Yeah, I think so.
Astrid: You've now been shortlisted for The Life to Come, and you are a previous recipient of the Miles Franklin. If I've done my numbers correct and if you are awarded the prize at the end of the year, I think it will mean that you are only the third female to receive it more than once.
Michelle: Oh, right. So I know Thea Astley…
Astrid: And Jessica Anderson-
Michelle: Oh, Jessica Anderson, of course. Yes, for Tirra Lirra and The Impersonators.
Astrid: But how does that make you feel?
Michelle: Well, it would be wonderful of course. I think it is very unlikely because I have a feeling, although I might be completely wrong, that the days of the multiple winners are over.
Astrid: Oh, really?
Michelle: Just a feeling that the prize is trying to broaden its focus and draw more writers into its orbit. I might be completely wrong.
Astrid: That's a fascinating comment, because of course Peter Carey and Kim Scott are also nominated and also previous winners.
Michelle: But Peter Carey didn't make the shortlist. I would be thrilled if Kim won actually because I love Taboo…
Astrid: Taboo, yes.
Michelle: Look, I have no idea what is in mind, in the mind of the judges. I have no idea what is in store for any of us. I mean, as far as the gender thing goes, I think that the Miles has made a real effort in recent years to address the gender imbalance, which is a great thing. I mean, it should have happened earlier, but it's great that they have taken that onboard.
I think they... the other thing that they did very early on, I think they were the first major prize to do this, was to recognise the importance of a contribution of indigenous writing to the Australian literary landscape. So they really were the leaders in that. And I think the other thing that's happened in sort of maybe the last 10 years or so, or even less, is they slightly... they broaden their vision of what Australian life means. So I'm thinking of a book like Anna Funder's All That I Am which is largely outside Australia. Once would have just been considered ineligible for the prize, and yet... I guess it's the people that manage the prize rather than individual judging panels have recognised that we live in a connected world, that Australians come from a great variety of backgrounds, and that Australians travel to a great variety of places. So that Australian life really can't in the 21st century be considered synonymous with life as it is lived only and exclusively in Australia.
Astrid: No more bush tales.
Michelle: Yeah, well. That there has to be room for the transformational turn.
Astrid: I have to ask, what is your favourite previous work that has won the Miles Franklin, as a reader?
Michelle: As a reader. Oh look, I love Thea's story. I still do. Am I allowed only one, am I?
Astrid: No, no. You can say as many as you like.
Michelle: I'll probably forget some. I loved Tirra Lirra by the River, I really loved that book. My favourite Shirley Hazzard which is The Transit of Venus unfortunately didn't win, The Great Fire did. I... Did Oscar and Lucinda win the Miles? If it did, I think that was great-
Astrid: It was certainly nominated, I think it did win…
Michelle: It was great novel, it is a great novel. I really loved that Peter Carey novel. I really liked Josephine Wilson's novel.
Astrid: It is fascinating, isn't it? Extinctions.
Michelle: Last year. I hope the judges made exactly the right decision there, that was wonderful. I loved Kim's books, all of them, really. Yeah, there's been lots of good Miles winners, I think.
Astrid: I have one final question for you, Michelle. As a previous winner and as a writer who I greatly admire, what work do you think has been looked over for... not just by the Miles, but any of the other major prizes in Australia?
Michelle: Oh, in this last year, or…
Astrid: Recently, yeah.
Michelle: Gosh, well. I thought that Mireille Juchau's novel The World Without Us didn't get as wide... I mean, as long a run as it should have. It did win the Victorian Premier's Award which was great, and it was shortlisted for The Stella, but it's an extraordinary novel. It's superbly written. It's intelligent, it's moving, it just does everything that a novel should do. And I thought it should've got... I wouldn't say it was overlooked, but I think it should have got more attention than it did. It was one of those books that made me feel exhilarated to read it.
Astrid: I'm going put that straight on the top of my to-read-list. Michelle, thank you very much for coming on The Garret, and I look forward to welcoming you back soon.
Michelle: Well, thank you.
Astrid: Welcoming you back soon.
Michelle: Thank you, thank you very much.
Astrid: Kim Scott, welcome to The Garret.
Kim: Thank you. I'm very happy to be here.
Astrid: I have to admit, reading Taboo was traumatic. I loved it. I read it in a day, I could not put it down. But I felt at points viscerally kicked in the gut. It has been a very long time since a work of fiction or any book prompted that reaction in me. And so I have to ask, when you write, are you thinking about the reaction of your reader?
Kim: Yes. But I'm not sadistic in any way.
Astrid: No, no.
Kim: And it's the whole story that you're building. So some of those things you're talking about, that's part of the journey through them. And it's a story about transformation, I think... Yeah, I mean, I want to be affective. Effective and affective, so I'm thinking about a reader. But the reader's also some sort of idealised version of myself.
Astrid: Can you explain that?
Kim: Possibly not, but let me try. I don't really write for a market or anything like that. And I write a lot, I think and explore things through story. So in that sense I'm assuming a reader that is a reader that reads, has read widely, and probably knows something – this may be a mistake –
Knows something of the local, where I'm coming from.
Astrid: When I started reading Taboo, I had high expectations and you delivered completely. I was expecting a novel about identity, about land, about blood, about the past, about what reconciliation might look like. I wasn't expecting the contemporary violence. It was extraordinary, and I wanted to ask about the trauma of Tilly, and I wanted to ask when you were plotting and creating this story, which is a story, how did that fit in? How did that kind of drive the narrative and add to the whole story?
Kim: Look, that's a very thoughtful question. And it may be pertinent to point out... question and it may be pertinent to point out that I've mainly written historical fiction before. One of the reasons being I didn't want to wallow in the sort of easy sensationalism and that's a lot of… just the legacy of oppression, the disfunction at a community level, the trauma and the turmoil. So that was an issue for me and I think I am quite attuned to people who have – because it's part of my own experience – who have been disconnected from their indigenous heritage and making their way back in. And I think I am attuned to as I said, the legacy of oppression, the levels of violence that are shared by all oppressed communities across the world.
So, I wanted... In this one because I think I have some inkling of a way out of that predicament, a potential way out of that predicament that is about connecting to a pre-colonial heritage and the transformation that comes from that. So yeah, I've forgotten the original question, that business of trauma, turmoil, and healing. Healing and transformation is what I wanted to work with.
Astrid: I read a review, many reviews, but one particular review of Taboo stood out to me. It was by Melissa Lucashenko, she describes the novel as 'uneasy truces and silent shame', I had that reaction too, I feel she captured it, but I also felt it was quite brutal and optimistic at that same time, the way you were looking to find a way out of the predicament. As a writer, how do you balance such polar opposites to brutality and the optimism?
Kim: The best I can. I try and be brave and I try and be honest and avoid the cheap shots that you can take.
Astrid: So what would you count as a cheap shot?
Kim: Well, as I said before there's a certain amount of... there's material in a dysfunctional community that would work well in some forms of narrative that are very popular. But I wouldn't want to just stay there. The… Once Were Warriors, What Became of the Broken Hearted, they were skillfully written and all that but I have some issues about just wallowing in trauma and not even partially signalling a way out of that. So they're concerns of mine, not just perpetuate the legacy of our history.
Astrid: In Taboo, there are opportunities and changes and transformation for quite a few of the characters and I did love the last page, I have to say, it lifted me up and I wasn't expecting to be lifted up, I really appreciated that as a reader. I also wanted to ask you, the novel explores intergenerational trauma and I was... while there are many successful relationships, siblings, husband and wife, friends, Elders, in the novel, Taboo, I couldn't find a successful or at least a long-term successful parent-child relationship. And that really intrigued me and I wanted to ask you why.
Kim: Oh that's a fantastic question, that is not something I've dwelt upon myself. However, I think I'm quite happy with that if that's about issues to do with heritage and passing things on. Particularly... there's a strong strand in the novel about ... inheritance of a heritage of the colonial conquest thing, wouldn't want that passed on, wouldn't want conquest passed on. And I have a young person as the saviour and the hero in this story who is, despite her youth, and naiveté and some aspects, is hard-nosed and...
Astrid: Experienced?
Kim: Yeah and prepared to confront and articulate and name bullshit where she sees it.
Astrid: She does.
Kim: And I think that's... her qualities are of – and this is relevant despite some of the cliches around Indigenous culture – I think those sort of qualities are enormously to be valued as against just some passive reception of an older generation's perspective on the world. So that may help explain that parent-child gap.
Astrid: It does and Tilly very much comes to represent almost everybody and what might be, what could be.
Kim: Yeah.
Astrid; You're a teacher, Kim, a professor of writing at Curtin University. Do you ever share your draft work with your students?
Kim: No, except when I'm... I don't do it much now but when I worked with young kids, primary school kids, I've shared my primary school writing that I happened to have…
Astrid: Oh that's fantastic.
Kim: ... from when I was 12 or 11 or something.
Astrid: How do they react to that?
Kim: Well it's like something out of a time capsule. It's hand-written. [Laughter] Then you have to remember that even when I was undergraduate, I used to write essays by hand and hand them in in that way. I think it worked quite well, because they're laughable in some instances and then include essays like what would I like to be when I grow up.
Astrid: Did you ever pick writer?
Kim: No, I did not articulate that but my bent has been... but the way that I came from, you wouldn't say writer or artist or anything like that... No.
Astrid: So, who do you share your early works with? Your draft work? Who are your first readers?
Kim: No one. I sit on stuff for years, about three years is normally the case. And then my wife reads something when I think it's about ready to be read, pats me on the head and says, 'Oh that's good, Kim'. So I can't trust her judgement anyway. And then I send them off and hope. Sometimes, well quite often, there'll be extracts that have worked as short fiction and so that gives me some sort of feedback that things are working.
Astrid: How long did Taboo take you to write?
Kim: Once I applied myself to it, probably a year, two, more like three years, probably. So it's one of the quickest for me.
Astrid: One of the quickest, wow. You received the Miles Franklin twice for Benang and That Deadman Dance, if you receive it again, you become one of only four people, if I've done my number's correctly, to receive it three times: Thea Astley, Peter Carey and Tim Winton. I have to ask, what's it like to be in that position as a writer?
Kim: It's... I am honoured. I'm honoured to be in that sort of company if this was to occur. Seems kind of ridiculous... Yeah, I'm honoured and I'm flattered and I don't want to get too much self deprecation going on. Yeah, it's a surprise, it will be a surprise.
Astrid: I ask because theoretically recognition by a major prize means more readers and in addition to being a writer and a teacher, I'm going to call you a custodian of language, if I can. And that kind of recognition I would assume means more people will read your books. That was the driving impetus behind my question as a way of getting more people to understand the stories you're telling.
Kim: Yeah, and look, I'd hate to think I'm a didactic sort of writer too, so to share the pleasure. The South American writer, Eduardo Galeano, I saw him give this anecdote on a TV program a decade or two ago. So it's quite a long one but it encapsulates what I value in writing.
He talks about some monks meeting, some Indigenese, South American mountains, and the monks have mules with them. And these two people's convivial becomes more so. They're unpacking the saddle bags, they unpack the wine, that contributes to the conviviality, unpack the books, the paper, the pens. 'What's this stuff?' The Indigenese ask. 'What's this paper?' And it's explained as, 'That's how we send messages to our friends in far away places. The word for paper translates as the skin of God'. And then as I recall, Galeano says, 'That's what we writers do, we deal with the skin of God, and we send messages to all our many friends, to our friends who we do no yet know in far away places and we embrace them with our language'. And I think that's a beautiful way to explain my sense of what writing is, you make offerings.
Astrid: You're smiling as you tell that story, it is a beautiful story, thank you Kim. The Garret, our listeners are emerging writers, maybe friends you haven't met yet. In your position now, shortlisted for the Miles Franklin, do you have any advice for them as writers trying to make their career?
Kim: All you can do... I would never be in this position of some sort of status if it wasn't for writing. I'm extremely shy, quite introverted. So all you can do is trust yourself and then perhaps chain yourself to the desk or something similar. So you've got to put the time in to enable what you can do to become possible. So yeah, it's be brave, risk all that time and vulnerability and trust yourself and keep going.
Astrid: That is good advice, Kim. Thank you very much for your time on The Garret.
Kim: Thank you.
Astrid: I hope we get to have you back one day.
Kim: I'm sure.
Astrid: Felicity Castagna, welcome to The Garret.
Felicity: Thanks for having me.
Astrid: Congratulations on your shortlisting for No More Boats.
Felicity: Thank you, thank you very much.
Astrid: And thank you for your time on what must be a very busy day. I want to start with a short question, you prefaced No More Boats with a quote from the second verse of the national anthem. It's a verse that I have to say I think most people don't know by heart, and includes the lines 'For those who've come across the seas we've boundless plains to share'. I thought that was a quite powerful way to start a narrative that deals with immigration and migration. And as I read your book, you don't pull any punches for the reader. Tell me about your choice of topic.
Felicity: Originally I said to my publisher, 'I want to write a book about the history of immigration to Australia'. And he kind of laughed at me and was like, 'Well do you want to pick a slightly smaller subject like the history of immigration to Australia'. But that is really what I wanted to write about, and to me it's like if you want to talk about not just our immigrant story but our national stories the icon for that is the boat which to me speaks to our historical anxieties, fears, desires even.
So that verse, I think, in the national anthem is really telling because it talks about the tensions that we've always had as a nation, as people who I think have always imagined ourselves to be a kind of fair, caring, land of mateship. And on the other hand, we are often a nation who is not very welcoming.
Astrid: You immediately follow that quote from the national anthem with the first sentences of your novel. No More Boats is not a funny book, but I laughed at your first sentence and I'm just going to read it now. 'It is 1967, the Australian Prime Minister, Mr Harold Holt, swims out into the ocean and gets eaten by a shark'. What were you thinking when you opened your novel like that?
Felicity: First off, I hope it is... like it does deal with funny topics, but I do think that there's definitely humour in there. I would hope that there's a bit of humour in all my books that's in the way I think dark times unpalatable without humour.
But why did I start with that? I was just really interested in returning to our national images about the sea and boats and for me, one of the most Australian images is that idea of Harold Holt, our Prime Minister going out and just disappearing in the sea, maybe he got eaten by a shark, maybe he drowned, maybe he got taken by spies, to me it's just the most Australian of stories. Who loses their Prime Minister?
Astrid: Only Australia.
Felicity: Only in Australia like, 'Where's your prime minister?' We lost him, eaten by a shark.
Astrid: I do think it was a brilliant first line. Particularly a novel about boats and water and obviously being an island nation, the novel is set in 2001 at a very tense time in what we now know is a global history, August and September 2001. It was published in 2017. How long did it take you to write?
Felicity: I think in some ways what you're implying there is did I start it back in 2001.
Astrid: No I'm not. I'm not implying, just genuinely interested.
Felicity: Well, it was a book that was actually in my head from that time. From my own... it was an event that I tossed around in my mind for many, many years afterwards. But I didn't physically start to write this book until maybe about five years ago.
Astrid: No More Boats explores immigration, migration, refugees, asylum seekers, what it means to be Australian, or maybe what it means to be a real Australian in quotation marks. You don't take the perspective of what might be called the dominant social construct, Anglo-Saxon, English Empire, but rather multiple perspectives of different migrants from different waves of migration to Australia from different countries of origin. Tell me about that choice.
Felicity: Well I actually did a PhD in which..
Astrid: I know.
Felicity: I research about 200 novels that dealt with the topic of invasion. And the first novel ever in Australian history was an invasion novel. It's been something that's not just in our national psyche but very strongly in our literature and are art since early colonial times.
Astrid: Is that Watkin Tench?
Felicity: Is that what, sorry?
Astrid: By Watkin Tench? Are you specifically referring ... what text are you referring to, I guess.
Felicity: Oh that first book?
Astrid: Yes.
Michelle: Oh the first book was a book called White or Yellow by William Lane who was an early Australian unionist. It was actually the first ever published in Australia was this book that was written as a warning that if Australian men weren't kind of hyper-masculine and vigilant, that the Asian hordes would invade from the north and hook up with our Indigenous population and fought all our white people here.
Astrid: That's extraordinary.
Felicity: It's kind of not. When you read the whole... when you read invasion literature from the beginning to today, that kind of motif, the same stories and the same language reoccur all the time. But what... Even if you look at say Pauline Hanson and her rhetoric and what we see on TV, it's the same words aimed at different groups. But what I found was actually missing was the more kind of complex and nuanced stories of how migrants and transnational people and people that may come from blended families, like I do, where you hear migrants talking about migrants. It was sometimes as invaders. To me, it was like I know that that story is missing in Australian literature because I did the research on it, and so I did work... I've always tried to do it as a writer which is to write the book that I wanted to read.
Astrid: That is wonderful advice for writers. On page 53, you talk about the different types of boat people. That phrase really stuck out for me. I guess what did you mean by that and what story are you trying to tell to the Australian reading public?
Felicity: I think that... The boat has so many layers in our imagination. I mean if you look at, for example, where I come from and where the book is set, in Parramatta, you have... it's a place where the salt water meets fresh and the early colonial boats could go no further, it's where early Indigenous warriors like Pemulway fought early settlers back with their boats. It's where you had post World War II migrants coming literally by boat. It's where you have later generations of migrants, many of whom are refugees coming from... who have to stay in Villawood and such in the nearby suburbs stay. And many migrants who may even be refugees but don't come by boat. I mean it must be said that refugees don't actually come by boat even though that's what we associate them with. The boat is something much larger than a vehicle for transportation or for smuggling people or for legitimately transporting people, it's something that looms large in our imagination.
Astrid: It does. My next question was about Villawood, which of course is near Parramatta, how much research did you do into the detention centre in all phases of its existence?
Felicity: It's interesting because one of the things that I really wanted to do is show hew different groups of migrants had existed in the same spaces and how their spaces had changed according to how the nation feels about them as migrants. So the Villawood Detention Centre that we know now was actually a migrant hostel in the post-World War II period which held, most famously, many of the members of the band AC/DC actually that were in Villawood Migrant Hostel. And a lot of my family when they came to Australia were in that migrant Hostel and in Maralinga as well.
And interestingly enough, I found it really hard to find information on Villawood when it was a migrant hostel because most of their information that exists was part of government propaganda in which they showed that it was a really great place, and it certainly was much better than it is now as a detention centre, but it certainly people weren't necessarily always treated well or living in great circumstances.
But I did all of this research and it was really hard to find and then I published the book and then my great uncle was at a function with me and came up to me and was like, 'You know, it was really a lot worse than what you put in your book'. And I was like it was the first time, somewhere in the back of my mind I knew that my family, my immediate family, my father was never in a... or his parents were never in a... in a migrant hostel. But I kind of knew that all the rest of the family was but I somehow... it's that kind of thing like Antonio in the book does, you block things out and forget things and forget about the way that they shape you and I thought, 'I don't know why I went to the national archives when I could have just called up my relatives'. It is that weird thing about how do you, and even the awkwardness of me wanting to ask questions and the silences around those stories of people who are traumatised but also traumatise others. Please don't think that I'm ever implying that all migrants are people who traumatise others.
Astrid: Your book does not imply that at all.
Felicity: But I just think that... that's part of the reason my… I think that it's part of the reason I want to write the book as a multi-generational story, because I wanted to talk about the silences of our experiences with immigration and migration. And even for those people who haven't migrated, but who may have a parent who is a migrant, or who, just may be in a community of other migrants.
Astrid: Or a partner…
Felicity: Yeah.
Astrid: … Like in the novel. So before you published, did you show the draught of your work to your family?
Felicity: No. I mean it's not... There's a lot of my family in there, but it's fiction, it's not an autobiography. My family aren't great novel readers. I think my brother bought five copies of it, which was really sweet, but I don't think he's ever read any one of my books. Which is lovely. I'm not sure that any of my family has finished it, or most of my family. [Laughter]
Astrid: So tell me about the pace of the novel. It opens on the 31st of August 2001 with the Tampa crisis, and ends on the 11th of September 2001, less than two weeks. And all the while, for those of us who remember 2001, the action takes place while 438 people are stuck on a boat, and the Australian Government is fighting about where they can go. That's a pretty dismal and disturbing backdrop for a novel. How did you use that as part of the narrative impetus as your writing?
Felicity: It's this thing that is constantly in the background. And it's the rhetoric of that event that I'm very interested in, that I'm interested in connecting it to human lives and to our national story. So, I'm really interested in those repeated images that came out in the media reports around the time about being inundated, flooded, taken over, tsunamis of human beings wading off our shores. And also that famous line that John Howard said... 'We will decide who comes to our country and the manner in which they come'. I was really interested in having those phrases play out in people's lives and showing us the real impact of that rhetoric.
Astrid: You've just answered my next question. I found the repetition of that famous phrase by John Howard chilling, as a reader at various points in the narrative. And also, you mention Philip Ruddock. It really did evoke 2001 and what I remember it felt like.
Switching track a little bit, your second book, The Incredible Here and Now, was also set in Parramatta, and parts of No More Boats. In your life, I know you're very active in the area, you did your PhD at that University of Western Sydney. You're also on the board at WestWords, and you founded The Finishing School.
Felicity: Yes.
Astrid: Which is a collective of women writers in the area. What drives you to not only write about, or set your stories in the area, but to build the community there?
Felicity: I don't see myself as a person building a community, I see myself as being part of a community. There are so many amazing writers and so many amazing stories coming out of that region. I just really want to sit beside those writers and have conversations with them, through our work, and both literally through reading nights and that kind of thing, about what it means to be in that place, and it how it shapes us.
I'm actually co writing a novel at the moment with two other writers, which is a fantastic experience of story telling, and of bouncing stories off one another, and showing, how, we can all have a very different narrative in the same place, but all have a collected sense that we belong somewhere and belong to the same kind of narrative.
Astrid: It must be very different than writing by yourself, especially with three authors. Did I get that right?
Felicity: Yes. Me, Sheila Pham, and Faith Chaza.
Astrid: I look forward to reading that, that will be amazing. You have received literary prizes before. Did you ever think you would be short listed for the Miles Franklin?
Felicity: No, even when I got on the long list I was like... This is fantastic. And for me, that was the end though. It was like... This is great, it's real exciting, it's a real honour, and now lets just move on. So, even the idea that I'd be on the short list, it wasn't something that I conceived of, at all. Particularly since I think I'm the least experienced author on the short list.
Astrid: Nevertheless, you're on the short list. Congratulations. As a writer, who is your literary hero?
Felicity: So many. There are many writers that I went back and read when I was trying to write No More Boats, perhaps that's the best place to start. I've read Kim Scott's Benang about three times. And one of the things I found just so remarkable about that book was that he had done this incredible research on these historical events, that he had weaved it into a human story. The history of that book I know from before, from studying Australian literature and culture. But you get that remarkable sense that you don't really know something until you experience it through the eyes of human beings, when you read that book. And that was something I was trying to achieve in my work. I think other things that I was trying to achieve in my work that were influenced by other writers. I love Michael Cunningham's way that he tells stories from multiple perspectives, often he tells these generational family stories, which is what I wanted to tell as well. I like the way that he sets up voices and makes them sound distinct, which is very hard to do in a novel, and that's something I was trying really hard to do myself. I love the quietness of other writers like Gail Jones, where you don't necessarily have a novel that's hugely plot driven, but there's all of these interesting references and moments in the text that make you think about our wider national stories.
Astrid: They're all beautiful writers. A final question for you, Felicity. What is your favourite work that is currently short listed with you?
Felicity: Oh my God.
Astrid: If I'm allowed to ask.
Felicity: Now lets get competitive. I'm probably going to go with Murnane. I think that we are both writers of place and I think that his work is a remarkable meditation on place, and the way that place shapes who we are and who we become.
Astrid: Thank you Felicity. Thank you for coming to The Garret.
Felicity: You're very welcome. Thank you for having me.
Astrid: Catherine McKinnon, welcome to The Garret.
Catherine: Thank you.
Astrid: Congratulations on your short listing for Storyland. You are short listed with five other writers, two of whom have been short listed before, have you read their novels?
Catherine: I've just read Kim Scott's Taboo.
Astrid: What did you think?
Catherine: I loved it, actually. It's fantastic. I'm still on the last... I think I've got 20 pages to go. It's a pretty amazing book.
Astrid: Turning to Storyland, tell me about the structure of Storyland. How you chose to write it. I found it quite unusual. There are five points of view, and we start in 1796, come up to 2033, jump into the future, and then work our way back again. I found it a fascinating way to explore the story of place that you're telling, and I wanted to ask how you went about plotting and writing it.
Catherine: I suppose finding the... I always knew that I wanted to cross time, so I researched stories and I came up actually with more than five narrators. At one stage I had about nine, one of them was a tree. So I had a lot of narrators. But then as I was researching the stories and writing the stories I realised I had to cut them down, because we can take in about six different narrative lines quite easily, especially now with television, we can take in a lot more story lines. So I thought I needed to cut it down to six, and I went for a walk one day up to Mount Kembla, and that's called Jembla, by the traditional owners, the Wadi Wadi of the Illawarra region. I was looking down over the landscape and I realised that if I set it in this one water way, and, people along that strip of land, then the land and the environment would become almost like another character.
Astrid: Yes.
Catherine: I supposed I could talk a little bit about the climate and you would see the changes that happen, the physical changes that happened to the land. So you'd get the different attitudes, the different relationships, but you'd see the different physical changes. I realised that was a fantastic strip to choose, because, Mount Kembla was also cited by James Cook and used as a marker as he first came along all those years ago, and so it linked into every story. So, that decided me on that strip of land. But I did always know that I wanted to jump time. I like things that jump.
Astrid: I found your choice to jump time into the future, so 2717, very brave. I thought it was handled exceptionally well, and that actually might be my favourite part of the novel. Was that difficult to write? It is so different from the other points of view, the other timelines.
Catherine: It goes from historical fiction, drama, into the future speculative fiction. There is a genre now called cli-fi fiction, and it fits into that genre, and it also fits into another genre called trans-lit fiction. I don't know if you've ever read Cloud Atlas, but, Cloud Atlas jumps time, location, genre, all those sorts of things. So does Virginia Woolf's Orlando, she jumps time, and Jeanette Winterson's The Stone Gods. There's a lot of people that jump time... I've forgotten the question now.
Astrid: No, I think you've answered it. I have another question about the transitions between the points of view. So often you stop mid sentence and start up with another character in the future, and I found that quite unusual as reader. Why did you choose to do it that way?
Catherine: I think there I wanted to give this cross. I was trying to weave this way, but all the stories would feel like their one story and that time. I wanted to give this sense of scale, because thinking about what's happening to us as living on the planet now, and where we're going in the future, we have to move out of our everyday problems and think of ourselves as in the way past, and in the way future, and what might happen. And so, this idea that maybe words can cross time... I used birds to cross time. This sense of the planet, and the animals and birds live in ways that surround us. We're part of their story, not necessarily they're part of our story. I wanted to think about that, and that's why I used that particular device.
Astrid: In your notes section at the end you talk about how you consulted quite a few historical texts. Thinking about the section of the novel set in 2033, which I guess is the near future. The climate is disastrous there. I have a question. Did you consult any of the climate change reports? Any of the research about what might specifically happen in that area of New South Wales?
Catherine: I read a lot of future climate change, general future stories, The World Without Us, a lot of Tim Flannery's forecast into the future. Yeah I did a lot of reading of that. I did a lot of spec fiction reading as well. I also read about cyclones and a lot of information about Katrina and all that sort of thing. Originally I had two different kinds of climate, so I was thinking of going from a dry to a wet shifting. I feel like things can change. Our weather patterns can change by what we do to the planet. So I felt free to create this kind of stormy cyclones, where the cyclones have moved further south.
Astrid: As a reader, I found it quite tragic to continually be on the same piece of land and the same area, and watch it change, and what might happen to it, and us, the people living there in the near future. I was also struck by some of the violence in the novel, and in particular, the murder of the woman shot and then mauled by dogs. Again, at the end of the book you mention that was based on a real event. And so, as a writer, how did you go about depicting that in fiction, in the way that you did?
Catherine: That particular story took me a long time to work out how to write. There were transcripts of that original case from 1822 by a convict on this big bit of land owned by Richard Brooks, on the shores of Lake Illawarra. When I read some of the transcripts, what really upset me was that, first of all, the only people who were called to the trial were the perpetrators. There were no other witnesses called on either people who had been involved in the murder – and at the time, it wasn't a murder, it's not considered murder because Seth Hawker was acquitted. The judge said he was acquitted because he was only trying to protect the property of Captain Richard Brooks. I think it still kind of bugged me.
And so, I had to think about how to tell that story. And I did go and talk to Elders in the community, really to ask permission, first of all, if I could even mention that story, and to chat about it. There's a woman called Aunty Barb Nicholson that I chatted to a bit, and no one told me how to tell the story. Everyone I consulted said... Every first contact story is our shared story, so yes, you have a right to tell it. But think about things like... Do you have a right to speak in the voice?
Astrid: Yes.
Catherine: As in, a first person voice of an Indigenous narrator. There was a lot about... I was trying to decide if I could create an Indigenous narrator, and I didn't in the end. I have created Indigenous characters, but not an Indigenous narrator, so I never speak in the I.
I then decided that I had to tell that story from my history, which is that of the murderer, that convict. And so, I had to work hard on trying to create this character that did this terribly, terribly, awful thing, and try to understand why. I remember this thing that Hannah Arendt said which... 'Evil is banal'. So I started approaching it from that, and thinking... I also read a lot of the Bible, because that's very violent. I read a lot of Shakespeare and a lot of Dylan Thomas.
And I found my way into that character through other writers as well, trying to think about how you create a really dark person, but make that person believable. I was drawing on our real history that we often don't talk about, because it's too dark.
Astrid: I found it a very powerful scene, and more so, as the novel continued and we went back and forth in time, because, he's of course, linked to all the other points of you in some way, shape, or form. And to know that, essentially there's a murderer in the midst, it's quite confronting. Well done.
Catherine: I was actually often... Should I even be writing this? You do wonder. I felt that I should write the really dark story.
Astrid: It may be too early to ask, but, will your shortlisting for the Miles Franklin impact your current work in progress?
Catherine: Well I'm a little bit worried. I like to spend a lot of time on my... I like to do a lot of research and talk to a lot of people. I like to do field research, which is going to the place and really feel that and take notes, take notes on the environment, chat to people, those sorts of things. But then I like a lot of time on my own. I've already noticed... I teach as well. I teach writing and performance at the University of Wollongong. So I've already noticed there's a couple of... This year, twice a month, I've been going to reading and writing festival and it takes up some of your writing time. So I am worried. I think, oh God, I've got to get back to my writing time.
Astrid: Can you tell us what your current work in progress is?
Catherine: Well I can say that there are similar things, there's a future and a past. It's taken from real stories, one is set in New Guinea, an Australian soldier in New Guinea. One is in Australia itself, and the other is set in the Manhattan project, the explosion of the first bomb. It jumps to the future as well. So, that is loosely, the area I'm working in. It won't be the same structures, but there's similarities, in having maybe three or four narrative voices.
Astrid: Catherine, thank you very much for coming on The Garret.
Catherine: Thank you. Thank you for having me.
Astrid: Thanks to Perpetual, the trustees, and Miles Franklin literacy award, for organising the writers featured in this special episode of The Garret.