Title: Grandmothers: Essays by 21st century grandmothers
Editor: Helen Elliott
Published: March 2020
Publisher: Text Publishing
Category: Non fiction, essays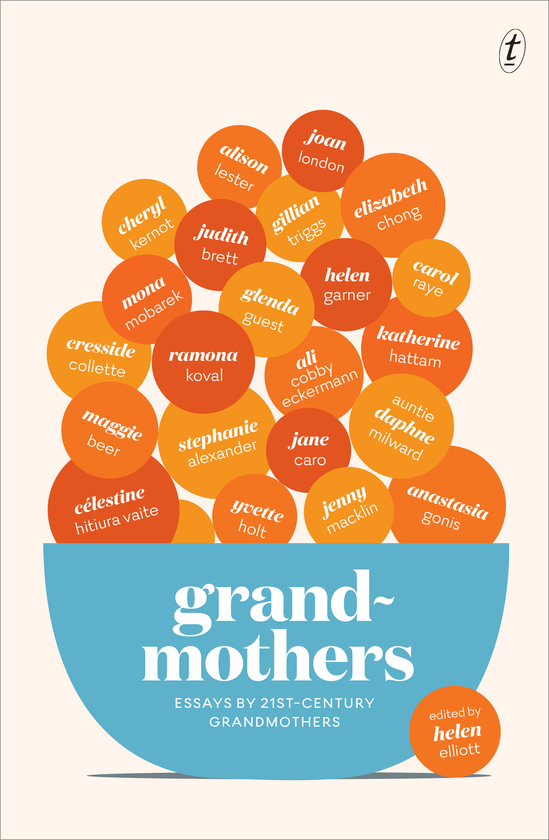 I read Grandmothers: Essays by 21st century grandmothers before Mother's Day, but my daughter's card prompted me to re-visit this collection of twenty-two essays by 21st century grandmothers. As they cheered 'Happy first grand-Mother's Day', I wondered what the essays would offer a grandmother of a grandson born between Australia's megafires in January 2020 and COVID-19 pandemic in March 2020.
The essays offer models of grandparenting that draw from different geographies and cultures. They tell me that demure grandmas and the 'Nanna nap' are things of the past. Now grandmothers wear jeans and sneakers, they cook but also swear, and they can be tough as well as indulgent. The message, I think, is that I should claim my own way of being a grandma. The essays also celebrate grandmothering as a time of joy, a playground of wonder and a second chance at mothering without motherhood's 'terrifying responsibility'.
In the introduction, editor Helen Elliott observes that feminism has opened up ways of being a grandmother but grandmothering 'has never been outed as such'. The verb to 'grandmother' doesn't mean sitting at home and just doting or waiting to dote. Some grandmothers are public figures, like Margaret Atwood and Hillary Clinton, and many more are working, travelling, meeting friends, taking on advocacy and being activists. Making space for the grandchild may mean getting a job closer to Paris, like Gillian Triggs, putting work into Grandma's Cupboard during the after-school caring shift, or making a place where grandma's dispersed family can gather from all four points of the compass.
These essays portray grandmothering through spiderweb stories––not the linear 'man begets man' storyline, familiar from the Book of Genesis. Through these story webs of space, time, generations and love, grandchildren learn the cultural codes of family and community. A grandmother's presence shows grandchildren tangible evidence of survival despite hard times, and grandmother's spiderweb stories help them face their own uncertainties, whether it's COVID–19 or climate change.
In today's stretched spaces, a grandmother's reach can be wider than in the past and tele-grandmothering can help. But this medium also affects relationships. A photo or video means the child can be watched, but the watcher is not necessarily visible. The image fixes a connection, but without the magic moment when eye-contact becomes feeling. The quiet dignity of an older Australian or disquiet of a migrant is complicated by distance because watcher and watched cannot translate that momentary feeling into the soft skin of fingers or lips, which links understanding to heart.
Yet our 21st century spatial sensitivities also help us recognise past traumas. For Ali Cobby Eckermann, this means surfacing the stories of Country and Community to fill voids in her experience as a Stolen-Generation grandma. It means acknowledging absent grandparents lost to wars, Holocaust, migration and family conflicts. It can mean encouraging grandfathers, who may find it hard to reach out to their grandchild and discover their own way of expressing care and love. And as matrilineal stories proliferate, it means acknowledging that boys occupy space in different ways to girls, and each needs spiderwebs according to their own 'tone of concentration, their delicacy, the needs they had and the kinds of games that answered them'.
These essays remind me that grandmothers enrich children's lives, as a particular person and as someone gifting access to culture and heritage. Grandmothers show children what it means to get old and how bodies sag in different ways through the 'ages of man'. Their actions affirm family habits and legacies of care. They ground compassion through bodies that love more than one person at a time. Grandmothers can displace the grandchild from centre stage and help them to recognise their siblings, parents, extended family, friends and communities, and mother Earth too.
As I spread my new grandmotherly wings, I feel these 21st century Australian grandmothers teaching me to fly. They endorse my delight in a new grandson, but also point me towards future responsibilities as a 'grandmother-invested-in-the-future'. I must now weave spidery story webs to update the past and challenge the linear narratives of patriarchy and ancestry. For in my flight from these shadow stories, where coherence rests on erasure and exclusion, I can gift the present and resource our future on this small planet.
Reviewed by Terri Seddon, a student in RMIT University's Associate Degree of Writing and Editing as part of the RMIT Reviews series.