Title: Highway Bodies
Author: Alison Evans
Published: February 2019
Publisher: Allen & Unwin
Category: Young adult fiction
Alison Evans, an Australian non-binary author, weaves a story of adventure, love and zombies in Highway Bodies.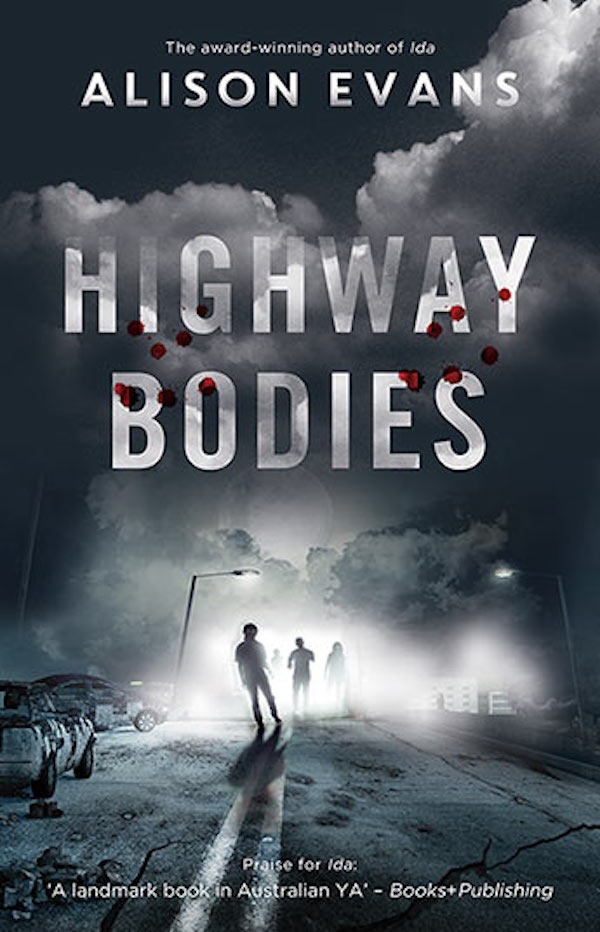 The novel takes place in outer Melbourne after the zombie apocalypse breaks out and follows three different teen perspectives. There is Eve, a transgender girl on the run from her zombified family, who seeks comfort and romance with Dawn. There is JoJo, a non-binary person simply trying to survive with their twin sister Rhea. And there is Dee, a bisexual member of an indie band that returned from holiday to a world overrun by the undead.
Throughout the novel the teens are forced to defend themselves against the undead, but also against living humans with agendas that go beyond survival, who are taking advantage of the end of the world to gain power and influence over what people are left. They find themselves tackling moral questions about life and death, like is it okay to kill someone who is already dead? Is it okay to kill living people, in a society whose numbers are dwindling, simply because they might be a threat?  The characters reluctantly leave their innocence behind; putting a whole new spin on coming of age.
The characters are diverse, not only in their representation of the LGBT community (there are genderqueer, bisexual, transgender and lesbian characters) but also in the representation of different cultures (including Ethiopian and Pakistani) and socio-economic backgrounds. Each point of view reads differently, with individual vocab and slang. The reader is thrust into a fast-paced novel with a large ensemble cast. This creates an engaging read quite different from other first-person perspectives common in YA.
In Highway Bodies, Evans is making the point that even at the end of the world, these teenagers respect one another's pronouns and identities. Where most authors write characters that assume people's gender on sight, Evans refers to people whose pronouns are not stated with gender neutral terminology (even when they are beyond human binaries as zombies are). This is relevant to our contemporary social and cultural discussion, but Evans makes light of a serious point too. As one character notes, 'zombies probably don't have a concept of gender'.
This story takes well-loved genres – dystopian and zombie fiction –  and makes them Australian. Evans' attention to detail creates an atmosphere all Australian readers can recognise – cicadas singing, magpies warbling, Melways maps and Kmart stores. If you've ever wondered how Australia might fair against at the end of the world, Highway Bodies has the answers.
Evans walks the tightrope of classic YA – romance and friendship – while indulging in the blood, guts and gore of dystopian fiction. Evans pokes fun at the conventions in zombie plots, with meta statements about whether it's silly to call the undead 'zombies' and 'they kill them so easily in movies'. These make for laugh-out-loud moments for the reader, but they also indulge the reader in the genre: abandoned supermarkets, gruesome zombie deaths, desolate landscapes and a group of unlikely allies forced together by circumstance.
The pace is maintained from beginning to end – there are no lagging moments, and I found myself devouring the 376-page book. This book is a must for anyone looking to indulge in a good pop-corn chomping zombie story that isn't a carbon copy of every Hollywood blockbuster. It is refreshing and engaging, ideal for readers who are seeking Queer YA, with grit, humour and zombies thrown in.
Reviewed by Lucy Wadelton, a student in RMIT University's Associate Degree of Professional Writing and Publishing, as part of the RMIT Reviews series.