Title: Wolfe Island
Author: Lucy Treloar
Published: August 2019
Publisher: Pan Macmillan
Category: Fiction
Lucy Treloar's debut novel, Salt Creek, was shortlisted for the Miles Franklin Literary Award and awarded a number of other prizes, including the Dobbie Award.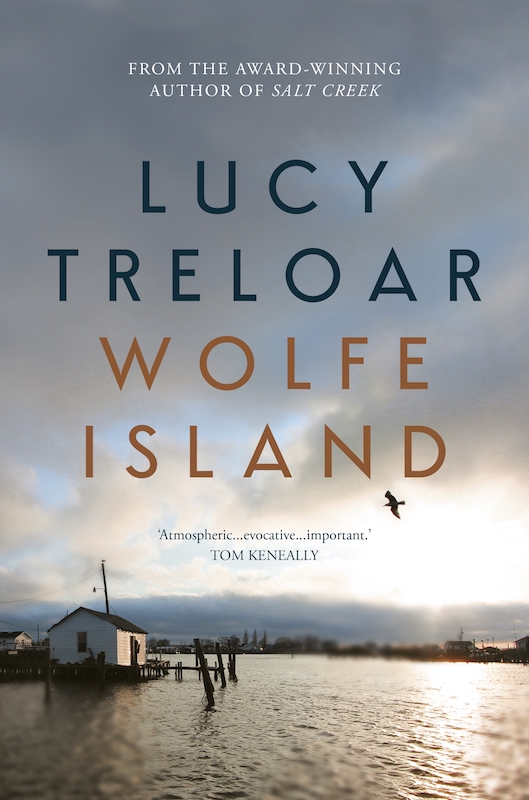 For any author, Salt Creek would be a daunting act to follow. But with Wolfe Island, Treloar has produced another work of beauty. Treloar's ability to create such different worlds in her two novels and be equally convincing in her portrayal of both, speaks volumes for her talent.
In Wolfe Island, Treloar transports us to the eastern coast of the United States sometime in a not too distant dystopian future. This world is richly imagined in setting and society, and the reader will recognise elements of our own world but also feel the dread of what could be our future.
Kitty Hawke is the last inhabitant of Wolfe Island, an island sinking into the waters of Chesapeake Bay. An artist by trade, she spends her days foraging for materials for her 'sculptures and makings', accompanied only by her wolf dog, Girl. Kitty is resigned to living this way, having chosen the island over family years prior. When a boat is blown ashore and Kitty recognises her granddaughter as one of the four passengers, she feels a sense of foreboding.
Kitty's granddaughter, Cat, her boyfriend Josh and two friends, siblings Luis and little Alejandra, are on the run from a threat that Cat refuses to explain. She warns Kitty, 'Don't talk about us to anyone, in any way. Even if someone else mentions us, or hints they have heard from us, or has heard from us, or has seen us passing by, do not say anything, do not betray.'
The island provides temporary refuge for the travelers, but the world of Wolfe Island is one of danger and uncertainty. Danger from visitors who come looking for the 'runners' is accompanied by uncertainty from the water that continues to erode the island. The rising water and encroaching hunters force Kitty and the group off the island, sending them on a journey north through even more dangerous terrain.
Kitty tells the story from her point of view after the events of the novel are over. This technique imbues the novel with a tension that doesn't dissipate from the moment the visitors arrive until the final page. Phrases such as 'I should have kept moving,' 'we got half comfortable… and that was a mistake' foreshadow the danger that Kitty and her group continually find themselves in throughout their travels on the 'main'.
The decaying environment is as much a personality in the novel as the characters themselves. Kitty speaks often of the island falling into the sea, and talks of  'rusted cars and ruins' as 'just things I moved around, no different from trees, though like people variable in the ways they fell apart.'
Wolfe Island is an exploration through Kitty's eyes into what is important in life, particularly in times of danger. What takes priority – home or family? Is family determined by blood or something else? What happens when home is lost? And can you forgive yourself for what you do to protect those you love?
Wolfe Island is an engrossing novel that examines the values we hold around family and home, and the events of the book will stay with you.. As a worthy follow-up to Salt Creek, it establishes RMIT graduate Lucy Treloar as an Australian author to watch.
Reviewed by Caroline Arnoul, a student in RMIT University's Associate Degree of Professional Writing and Publishing, as part of the RMIT Reviews series.